3.5 Inch Electronic Viewfinder "Geographic"
Become the next Steven Spielberg with Chinavasion's latest camera accessory, the 3.5 inch EVF "Geographic". The 3.5 inch display that is with the "Geographic" has a 800×480 resolution as well as a 800:1 contrast to provide a clear image for when you are viewing.
The LED display can also support 16.7 million colors and has a viewing angle ranging 160 degrees horizontal and vertical therefore allowing it to be adjusted to suit your requirements. Full HD 1080P is supported by the HDMI connectors that also allows loop through.
The optical loupe has an adjustable diopter and can be detached completely or flipped open to view the display as a monitor. A diopter, is a unit of measurement of the optical power of a lens or curved mirror, which is equal to the reciprocal of the focal length measured in meters.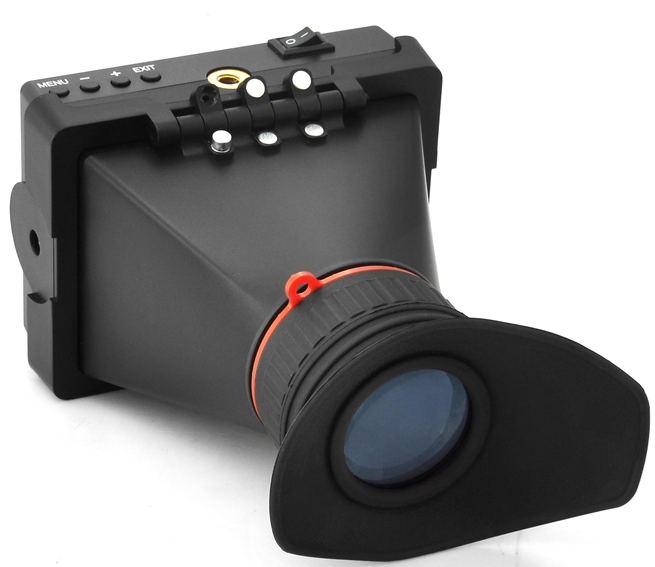 The "Geographic" electronic view finder has a comprehensive set of features, functions and modes.
These modes include peaking filter in white, 5D camera in full screen mode, also check field, screen marker, center marker and monochrome mode. The peaking filter outlines the edges of the objects that are in focus with white highlights.
Monochrome mode displays the image in black and white or isolates the blue, red and green channels. This "Geographic" EVF has a DC 7-24V power input and includes a Canon LP-E6 battery port for connecting to a Canon 5D/7D LP-E6 battery. Canon's LP-EG battery is supported by the "Geographic" EVF as there is a pre-installed battery port.