Electric Baby Bottle Steam Sterilizer and Dryer
The WABI BABY sterilizer is the first of its kind: a 3-in-1 baby product sterilizer that combines steam sterilization, hot air drying, and negative ion deodorizing to give you and your baby the absolute best. Made for contemporary, on-the-go parents, the WABI is efficient and easy to use.
With one push of a button, the WABI BABY's auto cycle can have your products sterilized and dried within one hour. Say goodbye to the time consumption and health risks that come with traditional open air drying! Give the sterilizer a few extra minutes to deodorize as well, and you can save yourself the time that comes with re-washing smelly bottles. With the WABI BABY, your infant's products come out ready to use right away.
List Price: $159.99
Price: $139.99
You Save: $20.00 (13%)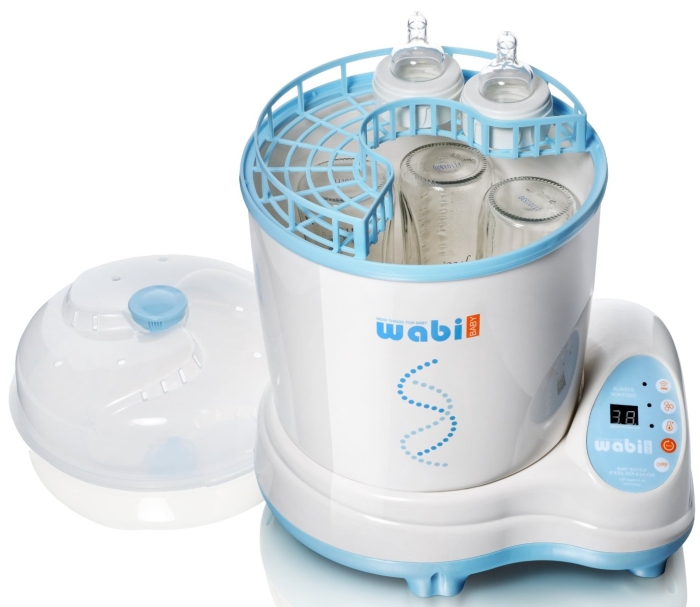 sterilizer is made is made of FDA approved food grade plastic called polypropylene, a common and popular product among the newest baby bottles, to ensure a safe, sanitary environment, and is also BPA, Phthalate, and PVC free to ensure a toxic-free environment.
The WABI BABY's sleek and modern design fits into the smallest of spaces, filling less than twelve inches of counter space. But, don't worry: that sleek design doesn't compromise space inside the sanitizer – its impressive capacity can still hold up to eight bottles at a time.
Its versatility and interchangeable trays allow you to sterilize everything your infant needs, from bottles to breast pump parts, pacifiers to kid's dinnerware, and more. Safe and energy efficient, the WABI BABY will automatically turn off at the end of a cycle, and will power down if it detects over-heating that could become hazardous to your home.
When it comes time to clean the sterilizer, ours is dishwasher safe, and only requires descaling once a week. Let the WABI sterilizer help you find that stress free environment, with less time cleaning and more time for baby.