Outdoor Wireless Speaker and Dock
Dock transmits through walls, floors and ceilings to speaker from up to 150′ away. No tuning-Phase Lock Loop circuitry automatically locks in and keeps audio signal clear and strong. Powerful 5″ woofer and 1″ tweeter deliver full, omnidirectional sound 3 channels prevent interference with other devices. Blue light for night use AC adapter (included) or 8 D batteries (not included) 9.2″ x 8.4″ x 16.8″ (speaker), 1.6″ x 5.48″ x 4.84″ (transmitter).
Price: $169.99
Sale: $149.99
You Save: $20.00 (12%)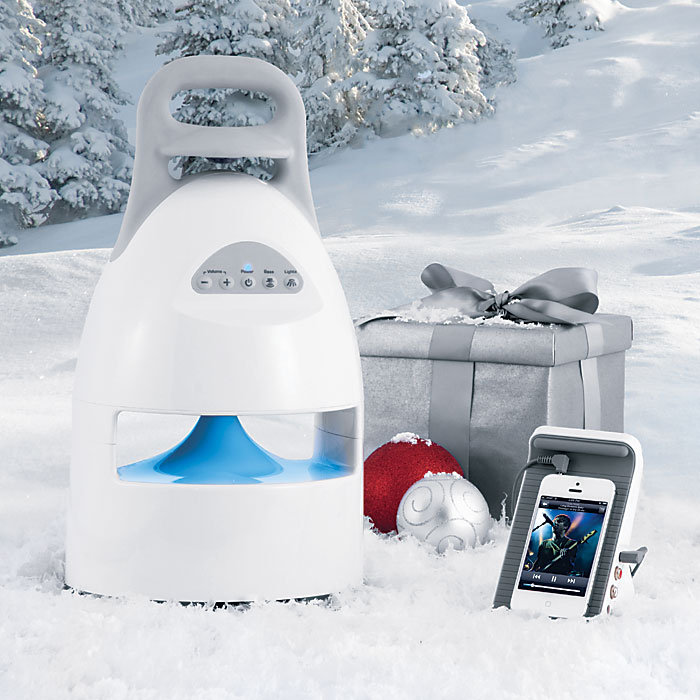 Weighs 6.4 lbs. Broadcast your tunes over our Outdoor Wireless Speaker. Weather-resistant and made for carrying, this portable wireless speaker booms out rich, omnidirectional sound in yards, patios or anywhere else within 150 feet of your docked MP3 player or stereo. Volume controls on the speaker even let you crank it up or turn it down without leaving the party. Three audio channels prevent interference with other cordless devices, while the 5″ woofer and 1″ tweeter deliver dynamic bass and bright, clear treble.