3 TB USB 3.0/2.0 Desktop External Hard Drive
Dual USB 3.0 and USB 2.0 interface- A single drive with universal compatibility today and next-generation speed for tomorrow. Use it with USB 2.0 now and step up to USB 3.0 speed when you're ready.
Up to 3x faster transfer rates – When connected to a SuperSpeed USB 3.0 port this drive lets you access and save files up to 3 times faster than USB 2.0. Transfer a 2-hour HD movie in just 3 minutes instead of 13 minutes.*
*Performance may vary based on user's hardware and system configuration.
Massive capacity – With up to 4 TB capacity, there is plenty of room to store and protect your precious memories and important files.
WD SmartWare software – You're in control of your backup. Install all the features, select just the components you need, or if you prefer, choose not to use the software at all.
Automatic, continuous backup – Works quietly in the background to protect your data using minimal PC resources. Whenever you add or change a file it's instantly backed up.
Password protection for privacy – Gain peace of mind knowing that your data is protected from unauthorized access with password protection and encryption.
WD quality inside and out – For over 20 years, millions of people worldwide have trusted their data to WD hard drives. We are successful because we understand the importance of your data and our first concern is keeping that data safe.
List Price: $299.99
Price: $149.99
You Save: $150.00 (50%)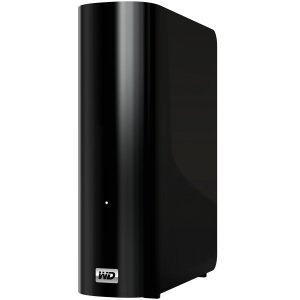 Ideal for
Transferring files up to three times faster when connected to a USB 3.0 port
Connecting with your USB 2.0 port today and using with USB 3.0 when you're ready
Protecting your data with automatic, continuous backup
Adding extra storage space for photos, videos and music
Securing private or sensitive data with password protection and hardware encryption
What's in the box
External hard drive, USB cable, WD SmartWare software, AC adapter, Quick Install Guide.