Air Hogs – Red Battle Tracker with Yellow Disc Firing Heli
The all-new Air Hogs Battle Tracker delivers head-to-head interactive combat. Take command of the Disc-Launching Helicopter as the A.R.T (Automated Robotic Turret) tracks your every move. Enter the heat of battle with both single and multiplayer modes: Single Player: Auto Mode. Take control of the heli and launch disks at the A.R.T antenna. But, beware. A.R.T tracks your every move while releasing a devastating payload of missiles. Don't underestimate the advanced intelligence tracking system as you go head-to-head in battle. 2-Player: Manual Mode. Easily switch to manual mode using the A.R.T remote control. Face-off against friends and see who will be victorious. Switch roles as you control 2 different advanced weapon systems and discover each of their advantages. Other Modes: Both the A.R.T and Disk Shooting Helicopter can be controlled independently. Battle them against other Air Hogs vehicles and become the ultimate battle-ready sharpshooter. Disk Launching Helicopter: Launch your way to victory with the high-powered disk launching heli. The resilient hard-plastic body is armored to withstand all combat scenarios. Steady-Fly Technology software detects flight instability and auto adjusts rotor systems delivering superior, stable flight.
Price: $99.99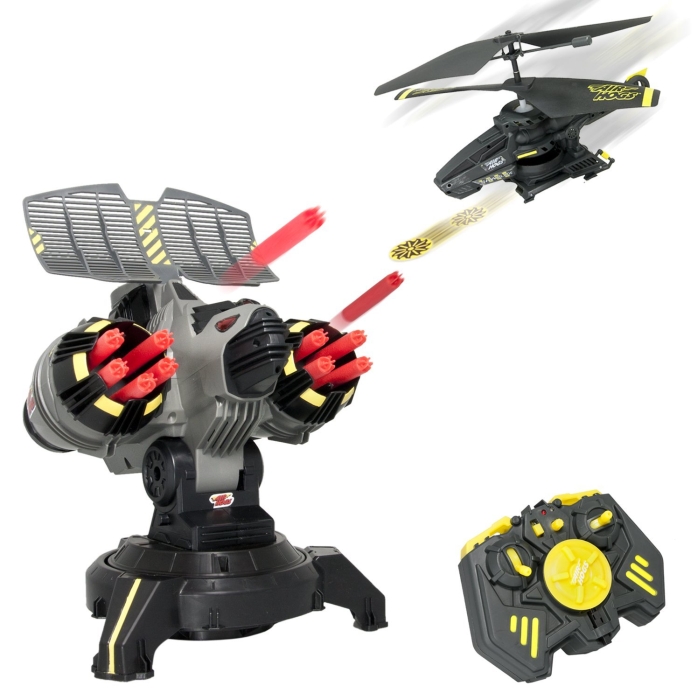 The advanced disk release system lets you launch your payload in rapid or single bursts. Automated Robotic Turret: The A.R.T is a state-of-the-art robot built with auto tracking technology and lock-on sequencing. It intelligently tracks and monitors flight patterns of the Disk Launching Helicopter and locks-on for fatal shots. The advanced missile load and release system launches missiles with precision and speed to challenge even the greatest of Air Hogs Pilots.