NEW ReadingPen2 (Scanners)
Innovative portable learning tools for students of a second language and for people with reading difficulties (such as dyslexia). Adapted for both school-age readers and for college level and adult readers, these tools provide reading autonomy and fluency, enhancing text comprehension.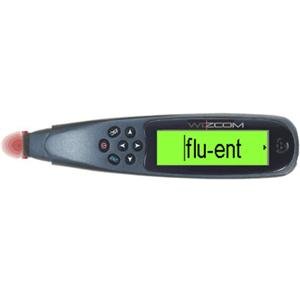 Features:
Scans single words or full lines of text.
Displays selected word in large font to enable easier, clearer viewing.
Displays definitions, synonyms and translations of the scanned text on the LCD screen.
Audio word pronunciation with text-to-speech (TTS) technology using built-in speaker or earphones.
Spells out scanned words, highlighting individual letters.
Displays syllabic division of selected word or phrasal verb (most products).
Comprehensive translation that extends beyond the simple, most frequently used meaning of the word.
Direct look-up of idioms/phrases.
Identification of inflected words and the display of their corresponding entries.
History option enabling review of the last 80 looked up words.
Recognition of a wide range of printed font types and sizes (6-22 points – up to 8mm), including inverted text on contrasting backgrounds (except red on white, white on red, blue on black and black on blue).
Recognition and automatic merging of hyphenated text.
Two display modes: Toggle between abridged and complete definition/translation display.
Easy to use buttons and straightforward menus.
Right/left handed support.