The Monkey Light M210 is a rugged, practical, high performance bicycle light that keeps you visible in all weather conditions. The M210 straps to your spokes and displays brilliant patterns on your spinning bike wheel. Show your style with cutting edge themes designed by our electronic artists.
The Monkey Light provides great front, rear and side visibility at any speed. It creates full color patterns on your spinning bike wheel at 15 to 65 km/h. The 8-bit themes are instantly customizable – with on-board buttons you can choose the themes and colors to fit any situation.
The M210 is easy to mount on the spokes of nearly any bike – Road, City, Cruiser, Mountain and BMX bikes. The light is perfect for daily commuters, urban cyclists, casual evening riders – anytime you want to be visible after dark or in the rain.
Price: $49.99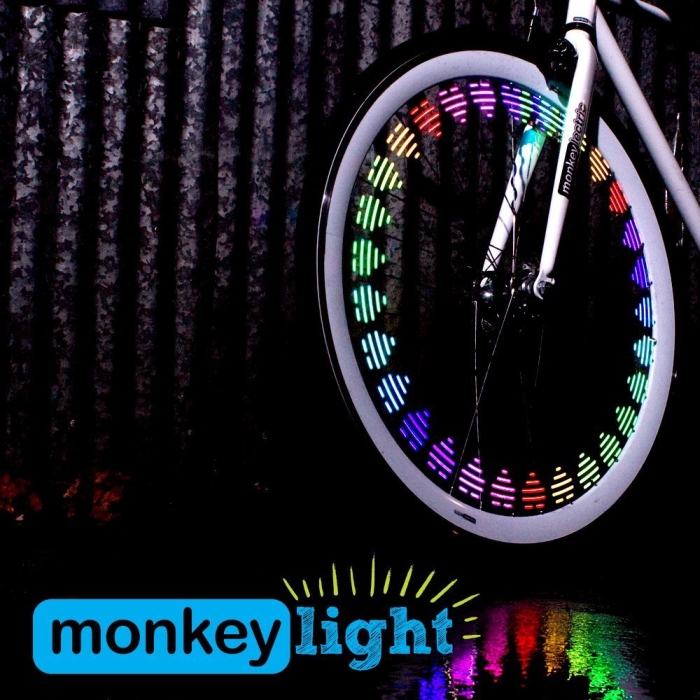 What's included:
  1 Monkey Light M210 Bike Light
  1 Hub-mounted battery holder
  20 language instruction sheet
  3 rubber mounting pads
  1 stainless steel anti-theft strap
  8 plastic mounting straps
  2 year warranty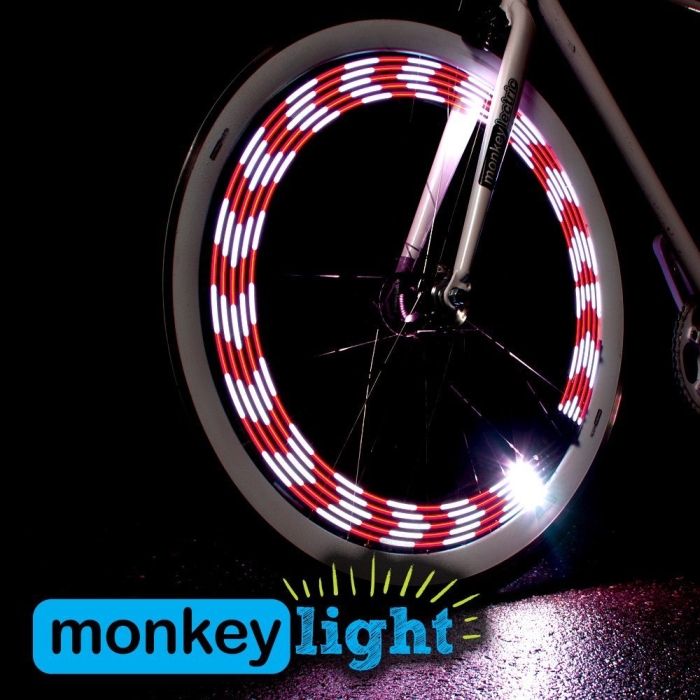 Specifications:
  Power: 3 x AA batteries (any type), NIMH rechargeable provide best performance
  Battery life: up to 40 hours
  Fit: bicycle wheels 20″ or larger.
  Riding speed: up to 65 km/h. Patterns visible above 12-15km/h.
  Visibility: front and side visibility when mounted on front wheel. rear and side visibility when mounted on rear wheel.
  Mounting: straps to spokes of wheel with vibration-proof 3-point mount (included).
  Rugged IP67 fiber composite construction designed for daily use in all weather conditions
  10 ultra bright full color LEDs (5 on each side)