Garmin Color Aviation GPS Portable
Fly with confidence without breaking your budget with GPSMAP 495. This "mini-MFD" portable includes the advanced features of the 496–minus XM compatibility and preloaded maps–at a price you'll love. It comes loaded with SafeTaxi airport diagrams, AOPA's Airport Directory data, Garmin's Smart Airspace, super-fast update speed, enhanced terrain and aviation databases and more. Add optional mapping to this versatile handheld for use on land or water.
Easily look up taxi services, plan an overnight, choose fuel stops and more with the Aircraft Owners and Pilots Association (AOPA) Airport Directory included on GPSMAP 495. It offers detailed information for over 5,300 U.S. airports along with airports of entry for Canada, Mexico and the Caribbean. It includes the names and phone numbers of thousands of FBOs, plus ground transportation, lodging, restaurants, local attractions and more.
When in the air, Garmin's Smart Airspace feature makes it easier than ever to identify what airspace lies ahead. Smart Airspace automatically highlights airspace close to your current altitude and de-emphasizes airspace well above or below your altitude, which gives you increased situational awareness.
$899.00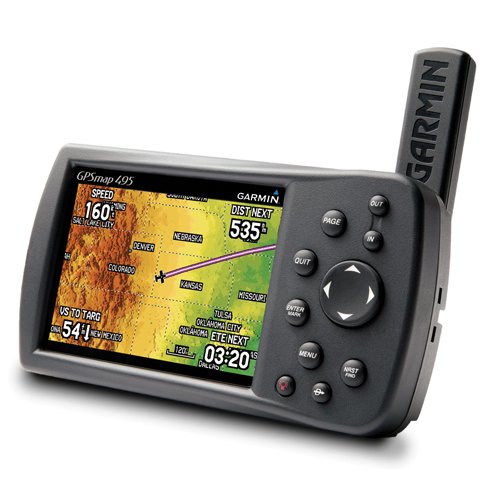 GPSMAP 495 features a built-in Jeppesen database and an Americas, Atlantic or Pacific terrain database. It also includes an obstacles database for the U.S. or Europe. Using this information, the 495 displays your flight route over contour terrain mapping. The higher-resolution terrain database includes over ten times as much data as the 296's for even more visual reference. With information from the terrain and obstacles databases, the 495 monitors your current position in relation to surrounding terrain to provide alerts. Even customize your own minimum clearance levels to receive terrain cautions. The addition of private airports and heliports to the database provides even more navigation and emergency "nearest" options. Add a Garmin Mode S transponder, and the 495 will display TIS traffic alerts that identify surrounding air traffic.