Networking Home Theater Receiver with AirPlay and 3 Zone Capacity
With its metal front panel and flip-down door, the Denon AVR-3313CI IN-Command 7.2 channel AV Receiver is a stately addition to any home theater system. It delivers 125 watts per channel–more than enough power for the largest of rooms and the most demanding of speakers. With seven HDMI inputs and three HDMI outputs, the receiver lets you enjoy high-definition audio and video from a range of devices–including set-top boxes, Blu-ray players, game systems, and tablet computers–in multiple rooms at once. The AVR-3313CI incorporates true multi-zone HDMI audio/video distribution with the inclusion of its HDMI matrix switching functionality. It is also three-source, three-zone compatible. The AVR-3313CI is the high-end model in Denon's line of IN-Command AV Receivers.
Price: $1,199.00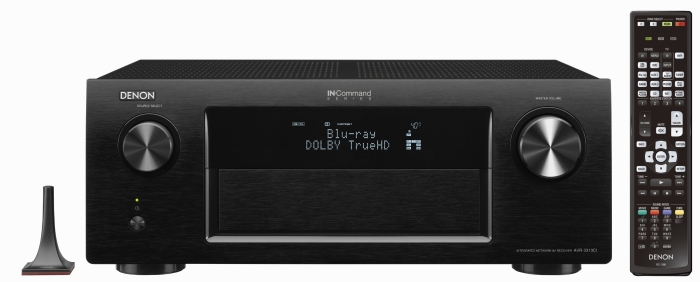 Fully discrete power amplifiers for all 7 channels (125 W x 7 ch, 8ohm 20-20kHz 0.05%). Delivers the legendary sound quality you?ve come to expect from Denon.
3D pass-through technology Enjoy 3D video entertainment with dynamic surround sound.
7 x HDMI in / 3 x HDMI out Lets you connect your HDMI-equipped devices with a single cable. Enjoy high definition audio and video on up to 3 displays.
4K video support (4K video upscaling, video pass-through and GUI overlay)
AirPlay Stream music from your iPad, iPhone or iPod Touch or from your iTunes music library.