Samsung 55-Inch Slim LED HDTV
Experience the next level of Samsung Smart TV technology, plus unmatched picture quality, with the LED ES8000. Smart Interaction lets you access entertainment like never before – Voice Navigation and Gesture Control let you say commands and control TV functions with your hands, while Face Recognition automatically logs you onto your Samsung Apps account. Smart Content includes new ways to explore and locate your favorite shows, movies, videos, games, and more. A full web browser and innovative apps, along with new Signature Services, enhance your enjoyment. It's all powered by the Smart performance of a super-fast Dual Core Processor. Brilliant LED images are paired with the exceptional contrast, color, and detail of Micro Dimming Ultimate technology. It's all in a sleek, virtually edgeless design, which allows for a bigger picture in a smaller frame.
Never miss a moment with Samsung Smart TV. Watch your favorite movies while you browse the web or explore the Smart Hub. Find more content you love by searching for shows, movies, and videos across vudu, Hulu Plus, YouTube, and other digital content providers. Movies are handpicked for you through recommendations based on your viewing history and ratings. Access all your apps and download new ones such as Netflix, Facebook, YouTube, Hulu Plus, and Twitter! Browse the web while you watch movies and TV shows, and enjoy TV while you chat with friends and family online, all on one screen.
bestdeal: List Price: $3,749.00 Price: $2,697.99 You Save: $1,051.01 (28%)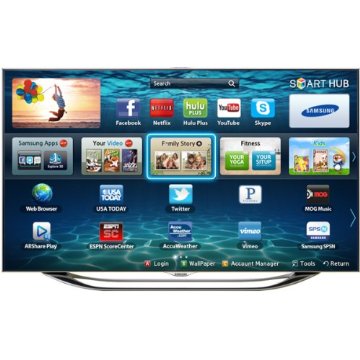 With all of the Samsung Smart functions incorporated in LED 8000 series, it has the beauty and elegance to match. You no longer have to make the choice between form and function with the ultra-slim bezel and arch flow stand designs. The super slim bezel gives you that sleek look, all while making your screen look even bigger! With almost an edgeless picture, this design creates an immersive viewing experience. Whether you hang your TV on your wall, or use the arch flow stand, you can now display the latest in Samsung LED HDTV technology as if it were a modern work of art.
Enjoy the most vivid contrast with superior color and sharpest detail. Micro Dimming Ultimate combines the use of a special algorithm and scanning technology that delivers sharper images and enhanced contrast ratios.
The Samsung LED ES 8000 series comes with a built-in camera and WiFi. The camera, built right in the top of the TV, allows you to enjoy Skyping with friends and family all over the world on the big screen. The wireless LAN built right into the TV makes it easier than ever to browse the web, update your Facebook and Twitter, download apps, and stream your favorite movies and TV shows. Your web browser will also be powered by a dual core processor, making your web browsing experience better than ever.