Digital Video Baby Monitor / Ip Camera for Elder Disabled Person
Monitor your baby on any Internet-enabled computer or tablet, iPhone, Android, Blackberry, or smart phone at home or across the globe!
Loftek's specter Digital Audio Baby Monitor will give you the reassurance that your child is resting peacefully. Equipped with private mode and unique apperance,allows you to monitor all angles of baby.Finally, a dual purpose baby monitor/ IP cameras that is easy enough for anyone to effectively use and enjoy, with all of the functions customers have come to expect from Loftek.
Specifications:
Image sensor: 1/4″ Color CMOS Sensor
Display resolution: 640 x 480 Pixels(300k Pixels)
Lens: f: 3.6 mm, F:2.0 (IR Lens)
Pan/Tilt angle: horizontal: 320° & Vertical: 120°
Price: $72.99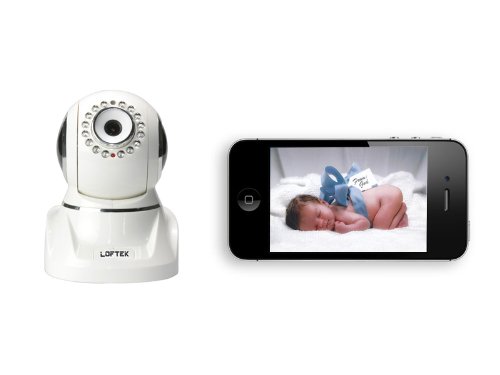 The Loftek Specter is Loftek's latest IP camera, and the internal and external changes really allow the Specter to shine as a baby or pet monitor. Improvements include increased pan and tilt range – a full 320° horizontal by 120° vertical range, increased infrared lighting performance (16 LED's with a 30-foot range), and a quiet, smooth moving motor that won't disturb a sleeping baby. Two way audio lets you hear and be heard, so you can assuredly know when your child is awake.
Product Features:
Compatible with all major iPhone apps
Supports VLC mode.Full audio on all browsers – including Firefox and Safari
Supports Gmail/Hotmail and MSN functions
15 preset positions; 16 IR LEDs
Free DDNS for remote viewing.
MJPEG compression
Built-in microphone and speaker