18-Quart Roaster Oven with Buffet Server
Use it as an energy-efficient alternative to turning on the full-size oven, or as extra cooking space during the holidays. The unit's generous interior provides a roomy 18-quart capacity-large enough, in fact, to accommodate an 18-pound turkey.
bestdeal: List Price: $54.99 Price: $53.34 You Save: $1.65 (3%)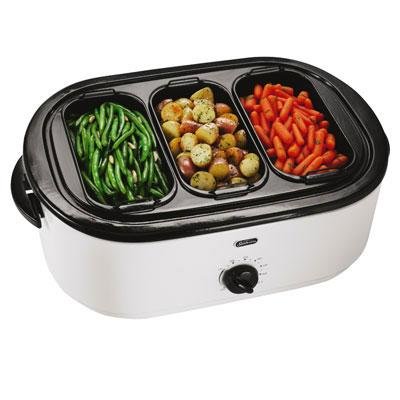 It does more than just roast, however-it works equally well for baking, cooking, and serving. The oven's secure-fitting lid helps trap in heat and moisture, while its lid rest allows for convenient access when it's time to stir or transfer food to an individual bowl or plate. The roaster oven also includes a removable steel rack to raise food up from the bottom. This sleek-looking roaster oven makes a wonderful addition to any busy kitchen.