Eagle Dash Cam – 1080p Full HD Car DVR
This little beast of a Car DVR can record 30fps video at 1080p/720p/480p. The wide angle HD Eagle Dash Cam will capture clear video for monitoring you car or journey; providing the ultimate DVR experience for an amazing price.
It has a flip-out LCD Screen, anti-shake function, a versatile mount, rotating cam head, a solid black casing and USB cable, MicroSD card slot, Motion Detection, and so much more! You can even set it up to record your passengers and swivel the LCD screen, then re-enact some of those funny YouTube videos where people drift their cars with a frightened passenger and record it.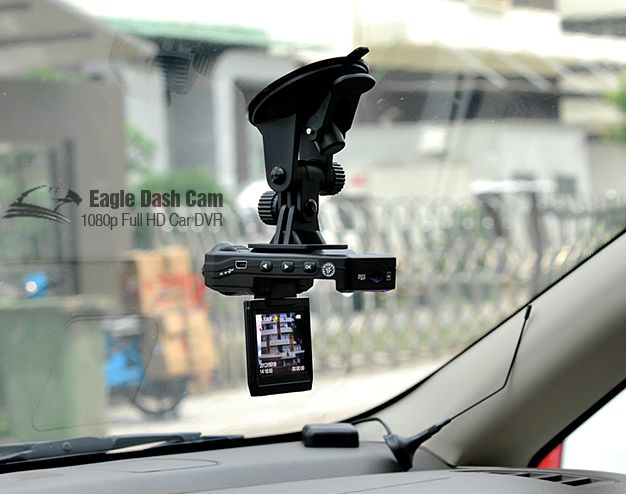 Have you ever thought about or encountered problems with proving what happened in road accidents or problems with the traffic police. With this great little gadget, your problems will go away, you can conveniently record high quality video so everyone from general drivers, police officers, journalists, detectives, lawyers, taxi drivers can have the evidence they need, that will hold up in court to prove what they encountered is true.
The compact black Eagle Dash Cam is very easy to setup, mount and start recording from the moment the device is turned on. It performs very fast from turning on to recording. You can record in 3 Different Modes, power on normal continuous recording, motion detection recording for security and cycled recording for saving data space.
It has a multi-language menu which is very easy to navigate; you don't have to mess around with this camera to get it to work. Just switch the gadget on and it can instantly auto-record awesome HD video. It has a great 140 degree Wide Angle view for getting the full view of the road in front of you, the Lens also rotates 180 degrees and the LCD screen 270 degrees. All this plus an easy-to-setup suction pad and a versatile mount mean you can set the camera up however you want.