The Archos Child Pad is a 7″ tablet made especially for kids and running the latest Android version, 4.0 "Ice Cream Sandwich." With its compact size, light weight and ideal form factor, the Child Pad offers a great tablet experience that entertains kids. The device is launched with an "Alvin & The Chipmunks 3" theme for the release of the Blu-ray and DVD. $129.99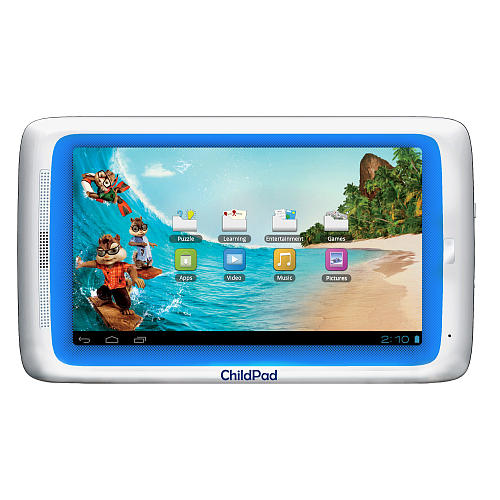 Smart preloaded content for kids: The Child Pad comes as a themed "Alvin & The Chipmunks 3" tablet. Children will have access to specific content provided by 20th Century Fox such as an exclusive behind the scene clip, pictures from the movie, wallpaper, and an online game.
Parental control: To provide children with a safe device, the tablet comes preloaded with a 6-month parental control application. The service is supplied by Editions Profil, whose "Mobile Parental Filter" is ranked as the most efficient parental control in worldwide benchmarks.
Top apps: The Child Pad comes equipped with some of the best Android applications you can find. Whether fun or educational, you'll find apps from Angry Birds to Pig Rush to much more!
Colored icons: To make this tablet better for kids, there are specific colorful icons as well as folders that give direct access to categories of preloaded applications (Entertainment, Games, Learning and Puzzle). Children are literally one click away from their content.
AppsLib: To help kids find apps adapted to their needs, there is a special kids' version of the AppsLib applications market. With thousands of applications specially selected for kids, AppsLib gives them access to dedicated, kid-appropriate categories such as Games, 3D Games, Multimedia, Books and Comics, and Sports.