3 Channel W/Gyro Camera Spy Helicopter
Capture photos and videos straight from the cockpit of your helicopter with the 3319B 3CH Camera RC Helicopter equiped with a Gyroscope as well as an internal camera! The camera is already built-in, so there is no need to worry about where to mount it. The included USB cable allows you to easily upload all of your photos and video straight onto your computer through the USB port.
bestdeal: List Price: $130.00 Price: $99.99 You Save: $30.01 (23%)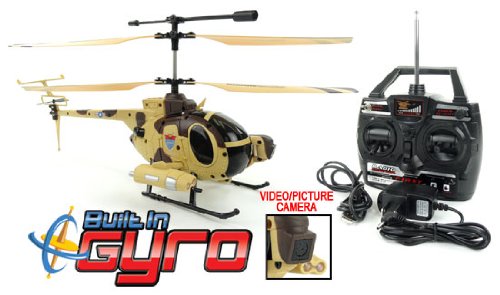 The 3319B also features the outstanding ability to hover steadily, as well as move forward, bakward, up, down, clockwise and counter-clockwise. The built in Gyroscope makes it automatically stabilize allowing you to focus on flying instead of trying not to make it crash. This helicopter comes with a rechargearble 3.7V 650mAh Li-Po Battery.