iConvert Scanner for iPad Tablet
The iConvert Scanner will help you put order toand prevent you from permanently losingall the many types of documents in your world. At home, it lets you save family photos, genealogy records, greeting cards, recipes and childrens artwork. At the office, you can archive meeting notes, resumes, renderings and signed contracts. While traveling, the scanner is perfect for digitizing receipts, expense sheets, and business cards. This compact scanner fits easily in your briefcase or backpack, measuring 12.1″w x 4.4″d x 2.8″h and weighing just 1.44 lbs. Dont risk accuracy by simply photographing your important documents. Cameras are great at taking pictures of people, places and things.
Price: $149.99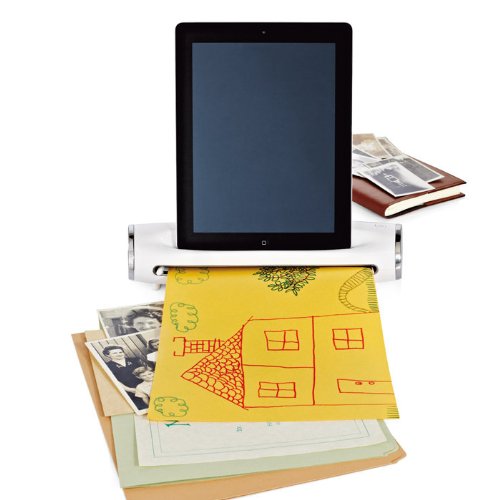 Theyre NOT the best choice for capturing detailed images of documents. Using a scanner ensures that youll be able to read every letter and number on your receipt and see every tiny detail in a photo or drawing. Shooting a document up close with a camera also frequently introduces distorted angles and unequal sharpness across the photos. By sending your document through a feed scanner, your image is perfect. The iConvert Scanner for iPad and iPad 2 tablets scans in high-resolution 300 dpi for clear, crisp JPEG images. The front feeder adjusts from 2″ to 8″ wide to fit most common sizes of photos and documents.