Car Mount FM Transmitter and Charger
Introducing the latest 2012 addition to the GOgroove FlexSMART line-up from Accessory Power, the FlexSMART SP is your complete in-car solution for mounting, charging and streaming your music to your car speakers. With its sleek and durable form-factor, intelligent design and intuitive controls, this fully-equipped, easy-setup accessory will have you grooving to your music within seconds of entering your vehicle!
bestdeal: List Price: $69.99Price: $29.99You Save: $40.00 (57%)
Utilizing an enhanced FM transmitting chipset with 4 preset channels, frequency adjustments and station lock, tuning into a clear signal will be easier than ever before! Once you find the optimum station for music listening, PSL technology delivers quality sound and keeps the staion locked so there is no need to find a station everytime you turn your vehicle off. Sound has been optimized to deliver crisp highs and clear mids with full-bass sound to give a "close-to-CD-quality" audio experience.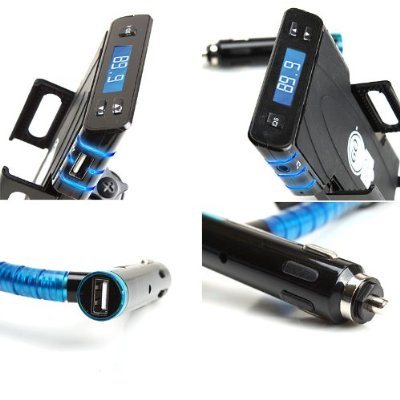 This unit is an all-in-one solution and features TWO USB charging ports for simultaneously charging your devices without any loss in music quality.
The FlexSMART SP plugs directly into your vehicle's DC outlet and is equipped with an extended DC barrel with rubberized grips to securely support your device. The mounting cradle is designed with adjustable wings to accommodate the body of your device with or without a case attached. The rotating head allows for displaying in both portrait and landscape orientations.