SoundOrb Aurora Soundbar And Sub-Woofer
Featuring a separate wireless subwoofer, the GEAR4 SoundOrb Aurora delivers exceptional sound for your iPhone/iPod music. With remarkable 3D sound creation, this 2.1 wireless speaker system incorporates advanced Digital Signal Processing technology to provide a unique spatial quality missing from the sound of other iPod and iPhone speakers. A video-out port lets you play videos from your iPhone/iPod on a bigger screen, while an audio-in allows you to connect a laptop or other portable audio device. The SoundOrb Aurora offers excellent versatility in a sleek, contemporary package.
Price: $349.00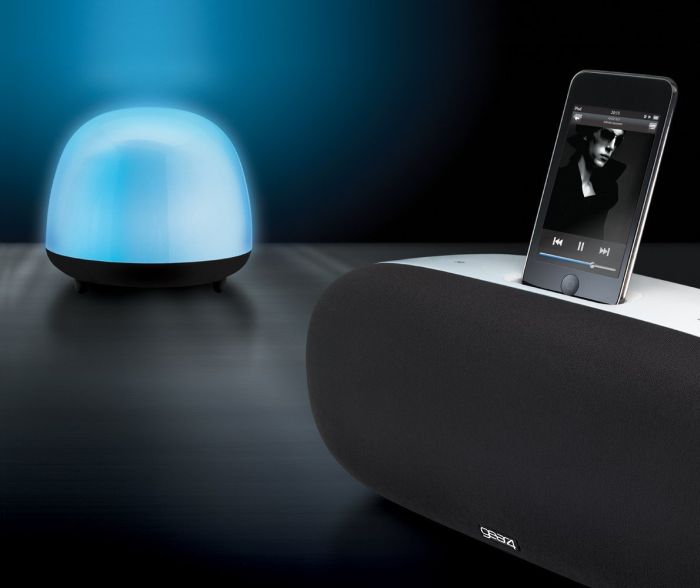 The SoundOrb Aurora 2.1 wireless speaker system features a slim SoundBar and down-firing 2.4-gigahertz subwoofer for rich, full-bodied sound. These two speakers combine to provide unique spatial quality missing from the sound of other iPod and iPhone speakers. The SoundBar incorporates advanced DSP (Digital Signal Processing) technology with two psychoacoustic sound algorithms, allowing you to enjoy your music and movies in Virtual Wide Stereo or Virtual Surround Sound modes. The result is exceptional performance from a compact speaker.
The stylishly designed subwoofer features extended bass ports to provide fuller bass with greater depth and impact to your music. With no additional wires to make a mess, the subwoofer can be placed up to 30 meters away. An easy-to-apply range of 12 different settings allows you set the right level of bass for the room you're in–without annoying the neighbors.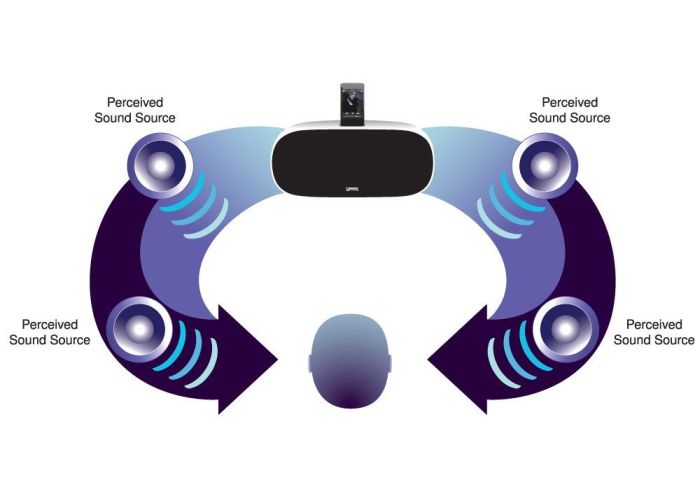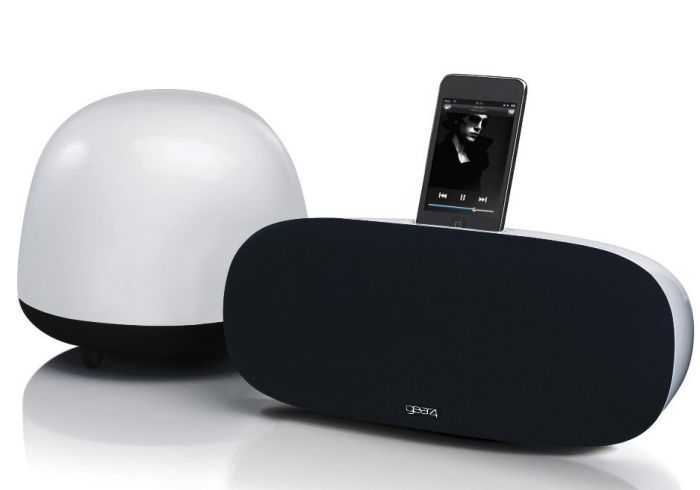 More than just a dock for iPods and iPhones, the SoundOrb Aurora can also be used as a compact home theater system or to watch video content from your Apple device on your TV. Simply hook up the SoundOrb to your TV via the integrated ports to fill your room with rich, detailed sound either from movies and videos stored on your device or straight from your TV, DVD player, or gaming device.
SoundOrb Aurora's advanced technology has been developed to work smoothly with the iPhone. It will charge and play your iPhone content with no RF interference of screen alerts.
EveryColour ambient light allows you to choose from a seemingly infinite number of colors to match your room and mood. Simultaneously producing sound and light, the subwoofer contains light-emitting diodes (LED technology) that can be set to cycle through a spectrum of colors, stay on a color of your choice, or simply turn off.
The controls for the SoundOrb Aurora are as easy to use as they are on the eye. The SoundBar features illuminated touch-sensitive buttons, while the logically designed remote mirrors the symbols used on your iPod. Additionally, you can switch between the three different sound settings–stereo, wide, and 3D–with the push of a button, and you can adjust the balance of both the SoundBar and subwoofer independently.