Sony Bloggie Sport Waterproof Video Camera
Record your outdoor adventure with Sony's Bloggie Sport rugged designed 1920x1080p Full HD pocket camera with 5MP stills that is ideal in extreme environments. Take your camera anywhere and be carefree: it's shock proof, dirt resistant, and even waterproof down to 16ft1. Easily upload and share with your friends on social networking sites via USB.
bestdeal: List Price:$179.00 Price: $178.00 You Save: $1.00 (1%)
The Bloggie Sport camera is built to handle extreme environments, allowing you to concentrate on safety and composition while capturing Full HD videos and 5MP photos. In addition to a protective, leather-like rubber bumper, the camera is waterproof down to 16 feet, and its 2.7-inch touchscreen remains fully operational underwater. It also has a shock resistance rating for up to 5 foot drops plus dirt and dust resistant seals that help make it nearly impervious to mud, snow, rain, and grime.1
As you snorkel or scuba dive down to the Bloggie Sport camera's operational limit of 16 feet1, the red spectrum of visible light is progressively absorbed by the water, resulting in a blue color cast. The Underwater Mode automatically adjusts white balance and contrast to compensate for this color shift, resulting in more natural photos and colorful fish.
Capacitive 2.7-inch touchscreen LCD: The 2.7-inch touch-screen is large enough for you to watch your movies and photos. This large touchscreen and the simple UI let you intuitively and comfortably operate the Bloggie Sport camera even while under water.1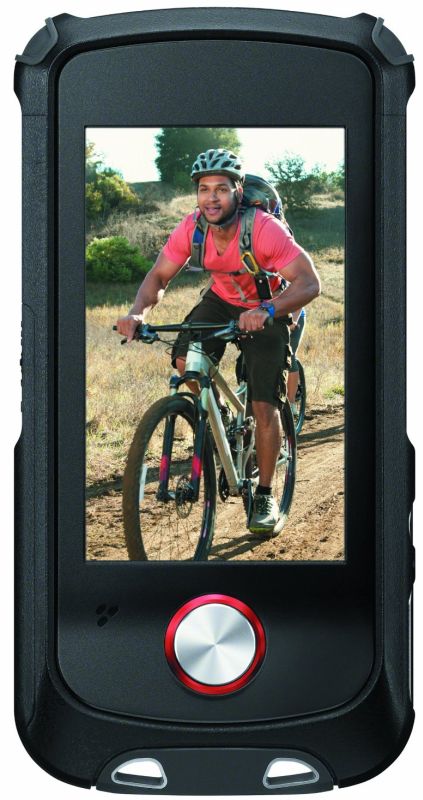 The Bloggie Sport camera has a built-in LED light to provide you ample lighting in any situation – indoors and/or where lighting is not optimal. To turn the LED light on, simply tap on the light bulb icon on the screen. This feature is perfect for parties and other nighttime events.
4x Digital Zoom & Auto Macro: With the Bloggie Live camera you'll be able to take pictures or video from as little as 4″ away, perfect for capturing a business card or a new friend's phone number.
5MP still images: Enjoy capturing clear, crisp still photos at 5MP resolution. The high resolution yields incredible detail while giving you the flexibility for large prints and cropping.
Slim design with easy operation: The slender body with its low-profile and simplified buttons give the Bloggie Sport camera a sleek look and feel and at only 4.5 oz it's easy to take with you everywhere.

The Bloggie Sport lets you tag captured movies and photos and upload them later when connected to the Internet to services such as Facebook and YouTube, or to Sony's PlayMemories8 Online service. Videos and photos are converted to an optimum format for faster uploading and viewing on smartphones, tablets, computers, and HDTVs, allowing you to share more content with friends and family.
Face Detection technology recognizes faces and optimizes camera settings for both video and still images, so faces are captured more clearly and skin tones look more natural.

The built-in battery contributes to the Bloggie Sport camera's sleek and stylish design while powering the large 2.7-inch screen3 and camera functions.