Serafin Wall Mount Liquid Fuel Fireplace
Transform your living room or office to a much more memorable place with the Serafin Wall Mount Liquid Fuel Fireplace! The Serafin Fireplace will surely be a great addition to your space even when not in use. This unit is unique because the design looks like a painting on the wall. This liquid fuel fireplace utilizes clean-burning natural ethanol based fuel. There is no need for additional ventilation, chimney or flue because the fuel does not smoke or soot. The square dimensions of this fireplace work perfectly above a dining room table or in den or living room.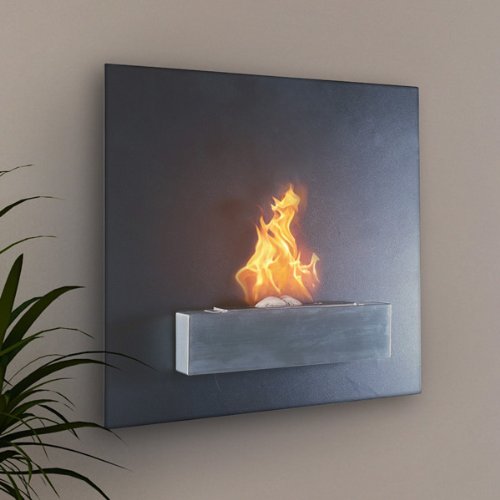 The Serafins is easy to install and will be a focal point in your home. Pureflame Ethanol Fireplaces combine unique design and a high-quality finish to create the visual beauty and warmth of a real fire in any setting whether indoors or out. Powered by Purefuels, a premium wholly renewable biofuel, the energy supplied goes straight into the room instead of being lost through the chimney therefore maximizing efficiency indoors. Pureflame biofuel fireplaces need no fixed installation and are fully mobile while the flames natural yellow and orange provide unparalleled design flexibility in contrast to a conventional fireplace. Pureflame fireplaces spread a moderate and pleasant warmth right from the start and in contrast to wood-burning there is nothing to clean once the fire is gone. When the burner is cool it can be refilled and used again lighting a fireplace has never been more comfortable and easy.