Cideko Air Keyboard Conqueror
The Air Keyboard Conqueror from Cideko is not just a wireless keyboard–it's also a gyro mouse and wireless gamepad. With the Air Keyboard Conqueror, you have all the tools you need for wireless PC and PS3 entertainment. It's a perfect match for your HTPC content including movies and music, web browsing, and PC games.
The Air Keyboard Conqueror features an ergonomic design for ultra comfort and control. In addition to acting as a wireless, motion-sensing air mouse and keyboard, the Conqueror has a PS3-compatible gamepad built right into the device. The gamepad features two analog joysticks with digital buttons, 4 axis and 10 fire buttons, and a trusty 8-way D-pad.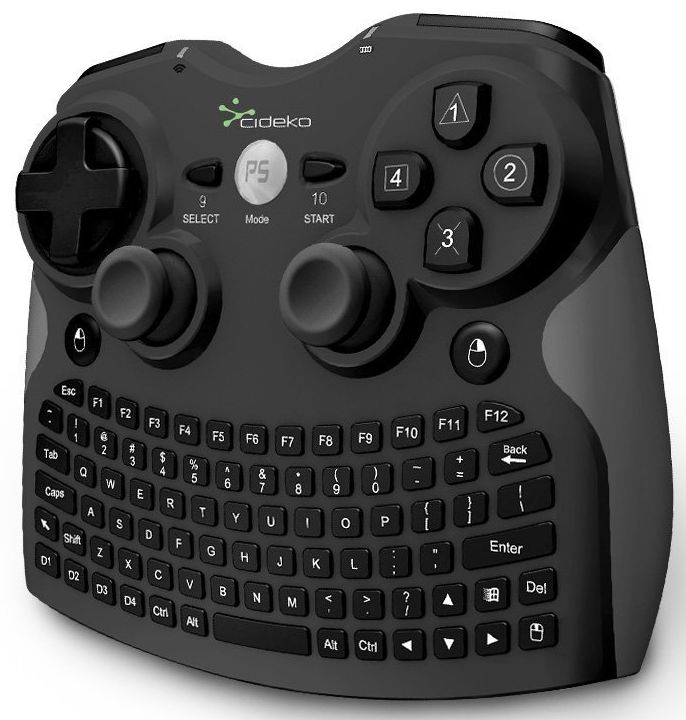 The wireless Air Keyboard Conqueror makes controlling your computer or home theater PC from the comfort of your couch easy. It's plug-and-play, with no software or driver to be installed unless you want to further customize your buttons using the included software. Simply plug the dongle into your computer or PS3 and start using your all-in-one Air Keyboard Conqueror.