Doxie Go – Cordless Paper Scanner
Doxie is a new kind of document scanner that scans paper, photos, and receipts anywhere – no computer required. Just charge it up and turn it on, anywhere – insert your paper, receipts, and photos to scan, archive, and share.
Why stay tethered to your computer? Doxie's tiny size makes it easy to go anywhere; it's not much wider than a piece of paper. Scans are stored in memory, then synced to your computer next time you're at your desk. It's fast, and easy.
Doxie integrates award-winning ABBYY OCR technology that recognizes the text in your documents and creates searchable PDFs (available in free early January 2012 software update). Search all your text, then copy and paste with ease.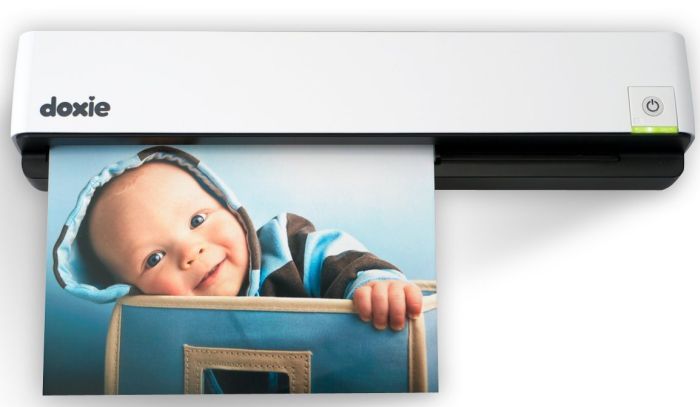 Doxie 2.0 included – going paperless has never been so easy.
Amazing scanners deserve amazing software. Doxie 2.0 syncs scans, creates searchable PDFs, creates multi-page stacks, and sends directly to your favorite apps and cloud services. Doxie offers crisp, clean copies of your paper in full color at up to 600 dpi – automatic contrast, rotation, and cropping make every scan look amazing.
Works with Evernote, Dropbox, and the cloud.
Doxie creates PDFs on your desktop, or uploads images directly to popular cloud apps – Evernote, Dropbox, Flickr, and more. Doxie makes scanning all your paper simple.
Wi-Fi ready with Eye-Fi X2 + extra ports for additional storage.
Doxie has built-in memory for up to 600 scans, and ports for USB flash drives and SD cards to store even more. And Doxie is compatible with Eye-Fi X2 wireless SD cards (also available on Amazon) – just put an Eye-Fi card into Doxie, and you can wirelessly send scans to your Mac, PC, iPhone, iPad, even direct to Evernote and other services.