Is it ASUS ZENBOOK UX another MacBook Air clone? Or it is different and add something new or innovative? We can do a MacBook Air versus ASUS ZENBOOK UX comparison and choose a Windows notebook over a OS X Lion notebook?
ASUS try to keep the secret over ZENBOOK like Apple was doing all the time. They cannot keep the secret as only the name was really unknown, because the UX was presented at CeBit in this summer.
The silver exterior panel features a concentric circle design around the ASUS logo. With a thickness of 0.11" at the front and 0.35" at the rear, the ZENBOOK is the thinnest Ultrabook on the market as ASUS declare.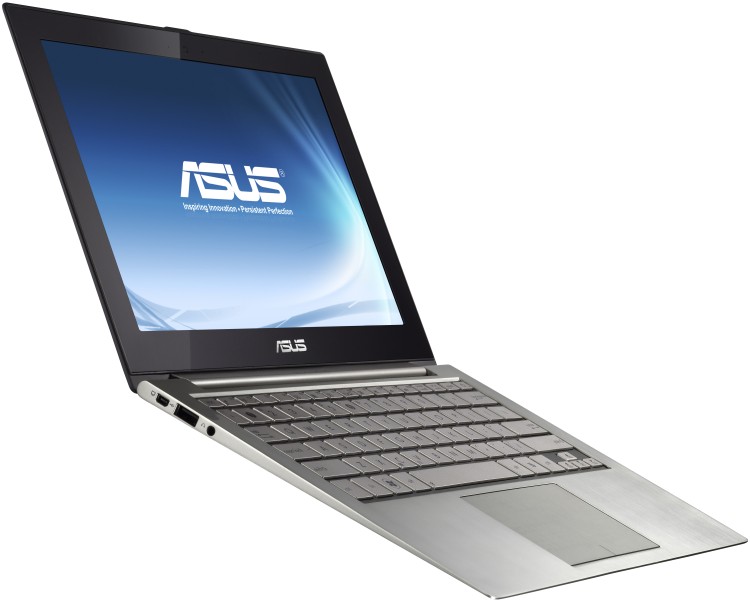 The ZENBOOK is designed with an instant-on feature that resumes the system in about 2 seconds and features standby times up to 2 weeks.It features the latest Intel 2nd generation Core processors (optimized for mobile use), SATA Revision 3.0 solid state storage (SSD), Bluetooth V4.0 and USB 3.0.

The ZENBOOK will be available for order in North America starting on Oct. 12, with prices starting at $999: UX21 at Amazon US and UX31 at Amazon US
All Models

UX21E-DH52

UX21E-DH71

UX31E-DH52

UX31E-DH53

UX31E-DH72

CPU

Intel Core i5-2467M

Intel Core i7-2677M

Intel Core i5-2557M

Intel Core i7-2677M

Operating system

Genuine Windows® 7 Home Premium – 64bit

Display

11.6 " HD (1366*768)

13.3″ HD+ (1600*900)

Memory

4GB DDR3

Storage

SATA Revision 3.0 128GB SSD

SATA Revision 3.0 256GB

Wireless Connectivity

WLAN 802.11 b/g/n, Bluetoothâ"¢ V4.0

Battery Life – Estimate
35W (5+ hrs) Standby Time: 1 Week
50W (7+hrs) Standby Time: 2 Weeks
Camera

Digital 0.3M Pixel

Audio

Bang and Olfusen ICEpower® and ASUS SonicMasterTechnology HD Audio

Speakers

Stereo speakers designed with Bang and Olfusen ICEpower® Technology

Interface

1x USB2.0, 1x USB3.0, 1x audio/mic
1x microHDMI, 1xminiVGA

1x USB2.0, 1x USB3.0, 1x audio mic combo
1x microHDMI, 1xminiVGA, 1x SD Card Reader

Dimensions / Weight

0.11″ at the front, 0.35″ at the rear

11.7″ x 7.7″ x 0.11-0.67″ (2.43lb)

0.11″ at the front, 0.35″ at the rear

12.8″ x 8.8″ x 0.11″-0.67″ (2.86lb)

Accessories

ASUS Collection Sleeve

MSRP – USA Only

$999

$1,199

$1,099

$1,349

$1,449