Fydelity Le Boom Box Universal Phone/MP3 Case With Built-In Speakers
The increasing resemblance of modern mobile phone models, from the latest iPhone to the most recent HTC 4G Android phone releases, is removing the worry of making sure cases and skins are custom-fitted for a particular device. The Fydelity Boom Box case appeals to your typical hipster right-off-the-bat simply because it's clearly universal but doesn't have that frumpy feel to it that so many one-size-fits-all phone/MP3 cases tend to possess. That makes it perfect for an inexpensive gift or just the right funky accessory to go with a particular outfit or pair of shoes. Colors vary but the coolness factor stays the same on account of the built-in 3.5 mm speakers that turn the case into literal portable boom box.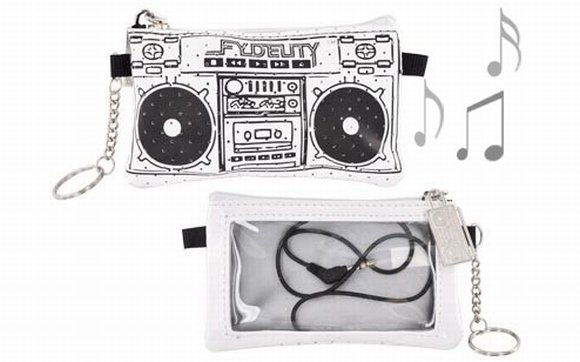 The design consists of a simple retro black news print graphic boom box laid against a totally 80's metallic color of your choosing: hot pink, oceanic blue, neon green, champagne purple, etc. On the other side of the case is a transparent plastic cover framed by the fabric of the boom box print on the other side. The audio jack that comes include can be taken out and hooked into any MP3 player or mobile device. The playback isn't Bose-quality sound by any stretch, but it's a novel idea and priced according to the capability.
The zipper can be secured shut with a mini lock fashioned to look like a boom box which comes with a lock. Someone with a high amount of motivation will simply shred the case open to get inside, but the lock does a good job keeping your standard snooper out of your device and worse, changing your playlist.
Anyone who considers themselves a fan of science fiction will find the "Fydelity" logo printed on the top of the boom box graphic to have an uncanny resemblance to the famous font of the "Star Wars" movie series posters. That little bit of subconscious throwback adds an exuberant finishing touch to an otherwise still remarkably clever little piece of hipster mobile phone accessory.
The Fydelity Le Boom Box Pocito Case with Built-In Speakers current retails at $16.99.