iSymphony 24-inch 1080p LCD TV
Ideal not just for home theater applications but for use in dorm rooms, bedrooms, home offices, or anywhere else you need a high-definition display at a great value, the iSymphony LC24iF56 is a versatile choice that offers a rich, vivid picture. There are HDMI, composite, component, and VGA inputs as well as an integrated NTSC/ATSC tuner, making it suitable for watching your favorite movies and HD over-the-air broadcasts, or connecting to your PC or favorite gaming console.
The 23.6″ viewable display with a widescreen 16:9 aspect ratio is the perfect size for watching movies and HD broadcasts or playing games. With a native true 1080p resolution of 1920 x 1080 and a high luminance (300 cd/m2) display, you'll get crisp edges and rich image detail.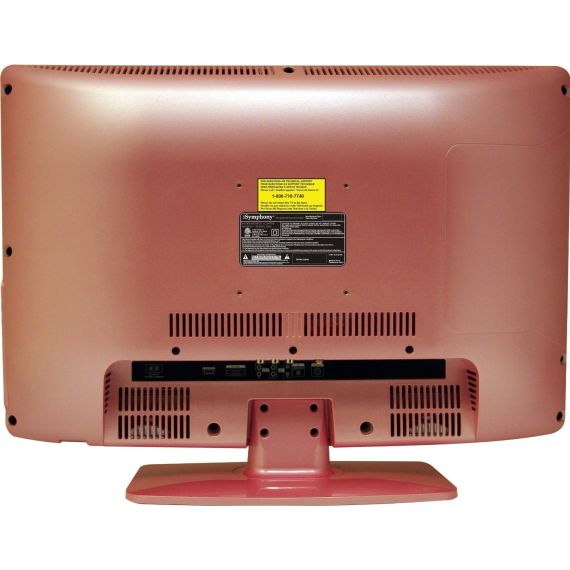 et a true digital connection with audio and video over a single cable. The LC24iH56's HDMI input gives you a single connection for your Blu-ray or DVD player, or next-generation gaming console.
There are also composite and component video connections to provide HDTV support your other home entertainment gear, as well as a VGA port for connection to your PC. So wherever you need a high-definition display at a great value, the LC24iF56 is ready to go.

An integrated NTSC/ATSC tuner gives you access to many over-the-air HD broadcasts in your area. Watch high-definition television content from major and local broadcast networks for free–no need for a set-top box. The included full-function remote offers complete control of inputs, channels, and settings.
Technical Specifications:
Display Type: 23.6″ Diagonal LCD Display Panel
Screen Aspect Ratio: 16:9
Resolution: 1920 (H) x 1080 (V)
Dynamic Contrast Ratio: 10000:1
Brightness: 300 cd/m2
Response Time: 5 ms
Viewing Angle: 160 ÌŠ horizontal and 170 ÌŠ vertical
Antenna Input: F Connector x1
HDMI Input: HDMI Connector x1
Composite Video Input: RCA x 1
Component Video Input: RCA x 1
VGA Input: D-Sub 15P x1
Weight: 12.6 lbs
Speakers: 3W x 2
iSymphony LC24IF56PN 24-inch 1080p LCD TV – Pink