The ARCHOS 35 Home Connect is a music box gadget and the best portable Android device for streaming radio and music anywhere at home such as the bedroom, kitchen, bathroom or kids room. Small, compact and easy to carry, ARCHOS 35 Home connect features WiFi and amazing sound quality becoming a part of your daily life.
It has an extra-long battery-life and fits perfectly in your hand. With two high-definition speakers specifically designed for improved bass, users will be amazed by the sound quality produced by such a small device.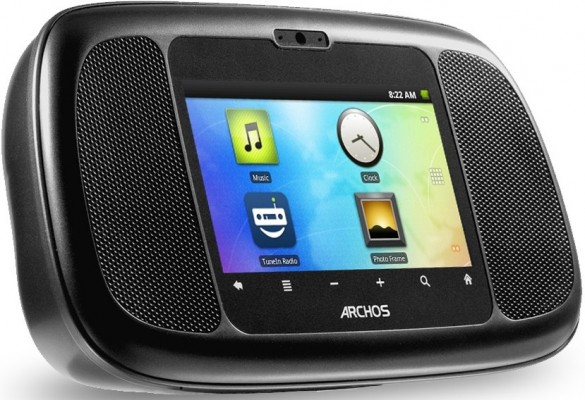 With just a click on the touch-screen, users will be able to stream over 50,000 web radio stations or music using the pre-loaded TuneIn application.
The ARCHOS alarm clock application brings users weather, traffic and news from the moment they wake up and features multiple alarms. Users will also have access to thousand applications such as games for children.
With a video calling application, users will be able to video chat to stay in touch with family and friends. Additionally, the front facing webcam allows for baby monitoring and even room surveillance.
The ARCHOS 35 Home Connect is expected to be available in September 2011 at the $149.