Good news for Canada: Nokia today announced the Nokia X7 will be available this July in Canada. The Nokia X7 is optimized for the very best smartphone navigation and entertainment experience. The Nokia X7 stands out from the crowd with its unique tapered corners, big 4-inch AMOLED screen made of toughened glass and a seamless stainless steel casing.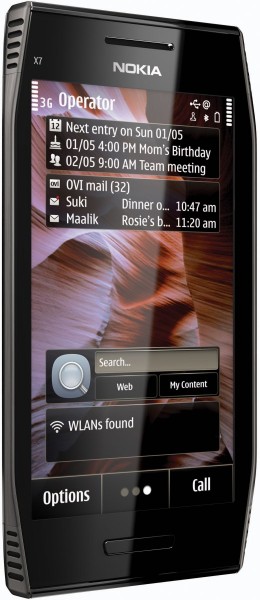 The Nokia X7 comes equipped with the most updated version of Ovi Maps, a free global navigation system with maps covering 80 countries in 46 languages. New features include improved search engines and WiFi positioning, a drive assistance mode that provides real-time traffic updates, maps of transit lines including Toronto, Montreal and Vancouver, and the ability to upload reviews and photos of places and share them with other Ovi users.
Canadians can also use the voice-guided turn-by-turn Drive or Walk navigation to easily get from A to B and view over 7,500 3D landmarks on Ovi Maps. Thanks to free premium content like Lonely Planet guides and TripAdvisor, users won't miss anything along the way.
Nokia X7 features include:
Distinctive silhouette designed to highlight the large 4-inch AMOLED touch screen
LED screen that provides brighter colours and darker blacks because it is not lit from behind
Kinetic scrolling
QWERTY keyboard in portrait mode
Galaxy on Fire HD and Asphalt 5 HD games pre-installed
"Transformers: Dark of the Moon" trailer pre-installed
8-megapixel full-focus camera that offers 720p HD video recording and comes with a dual LED flash
8GB memory card pre-installed, with up to 350MB built-in operating memory
New themes, backgrounds, wallpapers and smooth effects
Multiple home screens