LaCie d2 Quadra Desktop External Hard Drive
The LaCie d2 Quadra v3 Hard Disk is an extremely high-capacity desktop hard drive with a quadruple interface for professional use. Featuring interface for eSATA 3Gb/s, USB 3.0, and FireWire 400 and 800, the d2 Quadra v3 is designed for full compatibility for PCs and Mac. The d2 Quadra v3 offers fast burst transfer rates of up to 130MB/s via USB 3.0 as well as a sturdy aluminum d2 heat sink and ergonomic design. Genie and Intego Backup Assistant software is included, and the d2 Quadra v3 is fully Time Machine compatible.
Perfect for digital content creation, audio/video editing, DVD authoring, web animation, etc., the LaCie d2 Quadra v3 Hard Disk can handle multiple demanding professional tasks. It can be daisy-chained via FireWire or connected to your DV camera and is even bootable in FireWire for Mac and in eSATA for Mac/PC. Advanced features include 3-level power management (Auto/On/ Off)* and software RAID 0/RAID 1 potential when daisy-chained with other drives.
The LaCie d2 Quadra v3 Hard Disk provides up to an incredible 3TB capacity in a relatively compact device. Fully loaded with all the best interfaces — eSATA 3Gb/s, FireWire 800, FireWire 400, and USB 3.0 — it offers complete universal connectivity for PC and Mac users. Use it to easily store all of your files or back up your computer or small server regularly, whether at home or the office.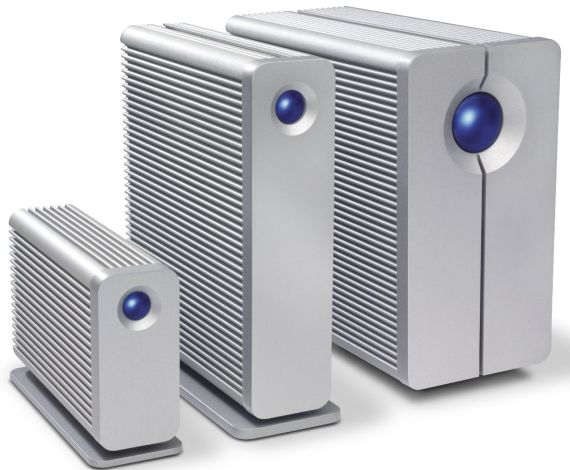 LaCie d2 Quadra v3 Desktop Hard Drive, eSATA-to-eSATA cable, FireWire 800 (9-to-9 pin) cable, FireWire 400 (6-to-6 pin) cable, USB 3.0 cable (USB 1.1 compatible), external power supply, drive stand for upright desktop use, LaCie Setup Assistant, LaCie Utilities (preloaded), Genie Backup Assistant software with data restore for Windows 2000/XP/Vista, Intego Backup Assistant software with data restore for Mac OS X 10.4.
link