Photo Book Portable Digital Photo Album
A portable digital photo album with an 8-inch 800×600 color digital LCD screen and 4GB of internal memory, Photo Book is a convenient and innovative way to enjoy and share your photos in addition to the traditional print albums.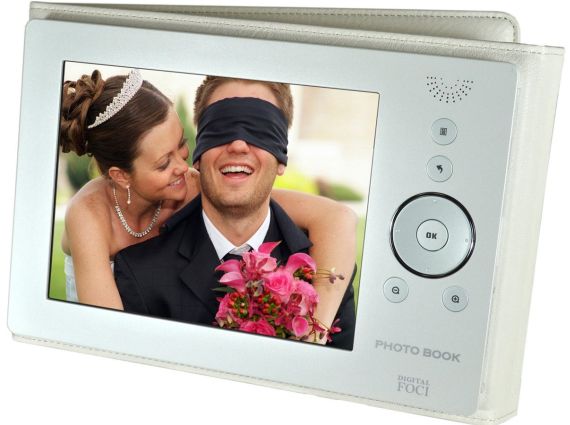 Featuring a slim design encased in a soft leather-like case for a convenient, elegant photo display, Photo Book offers over 2.5 hours of battery life and an easy and portable way to enjoy and share digital photos in a comfortable setting.
With Photo Book, you have easy access to your photos in a portable album that can be brought along to enjoy and share anywhere you go. Photo Book is ideal for passing around while sitting on a living room sofa and family gatherings. The internal battery eliminates the need to deal with messy AC power cables and makes it very easy to handle.
Easily organize your photos into different albums and choose a specific album to view. The "Photo Album View" displays each folder as a separate photo album, showing its folder name and a preview image of the first photo in the album. "Photo Thumbnail View" lets you browse through the thumbnails of the photos in a selected photo album. In addition to running a full screen photo slideshow with adjustable time intervals, you also have the option of running the slideshow with an elegant page-turning effect. It is just like you were flipping through an actual photo album. You can also add music to play in the background along with your slideshow.
Digital Foci Photo Book PBK-080 8-inch Portable Digital Photo Album