Chevillotte (Very) Table Pool Table
Have you ever wanted a pool table but been put of the idea due to a lack of space? Or maybe you were put off getting one because you felt a bulky pool table would not fit in with the décor and style of your house or apartment? If this scenario sounds familiar then Chevillotte (Very) Table Pool Table from Home Leisure Direct's range of unique pool tables is a surefire solution to the problem.
The Chevillotte (Very) Table utilises a spectacular, new and unique mechanical system which enables it to transform into a contemporary table or desk.
With an External dimension of 233 x 138 centimetres, a game area of 190 x 95 centimetres and the fact that it shares a space which would have otherwise been taken up by a table or desk makes this a no brainer if you are looking for a pool table but lack the space.
The most notable part of the Chevillotte (Very) Table for me was the smooth and effortless transformation thanks to the unique cranking system. When setup as a dining table or desk there is nothing out of place that would make you think it was anything else.
The effortless transition from dining table to sleek pool table only takes a minute or two and very little effort, there is no heavy lifting or strenuous activities involved to get this beautiful piece of kit setup and working.
When setup as a table the Chevillotte (Very) Table consists of three thin reversible parts which are lightweight and stored away in a draw under the table. As you might have guessed, the storage draw is very well hidden and the three pieces fit in nice and snug with no force necessary.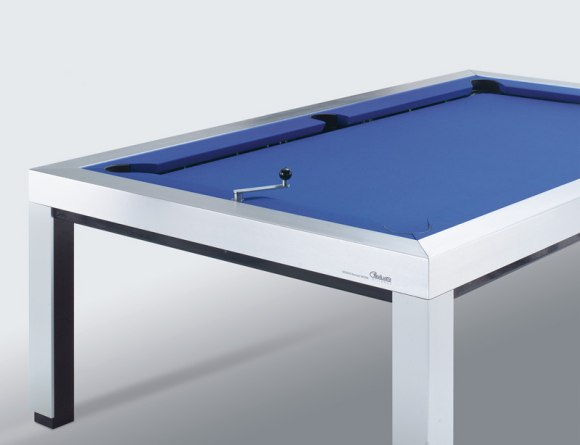 Due to the sophistication of this mechanism and the overall design of the (Very) Table it is only four inches thick! In this tiny compact space there are the cushion rails, 16 Billiards balls and a slate, which, in my opinion is makes this one of the most practical and best designed pool tables I have ever seen.
To start with everything is flat, as I said before there is nothing about this table which gives away the fact that it's a pool table. To start the transformation process the 3 pieces are removed from the top of the table and the handle is slotted into one end.
It is also worth mentioning that there is an option to have the whole process automated via a motorised handle rather than the standard manual version. While this is a very cool optional feature there is very little effort needed to make the transformation and I personally don't feel the motorised handle would be beneficial. Of course on the flip side your friends would be very impressed when they saw the dining table they just ate from magically turn into a Billard table.
Once the handle turns the magic happens, the cushions appear and the ball return catchers are lowered into place. Within a few seconds what looked like a perfectly normal table is transformed into a very sleek looking and stylish pool table.
The performance of this table is instantly noticeable due to the time, effort and attention to detail that has gone into the design. Constructed from composite materials and finished with brushed aluminium and top of the range cushion rubber makes this table an absolute pleasure to play on.