The Gyroscopic Electric Unicycle
Equally suited for urban commuting and suburban recreation, the unicycle requires a rider to merely stand on its two folding feet pads; gyroscopic sensors detect a rider's subtle feet movements while accounting for a shoulder-slung backpack or bag for its center-of-mass calculations.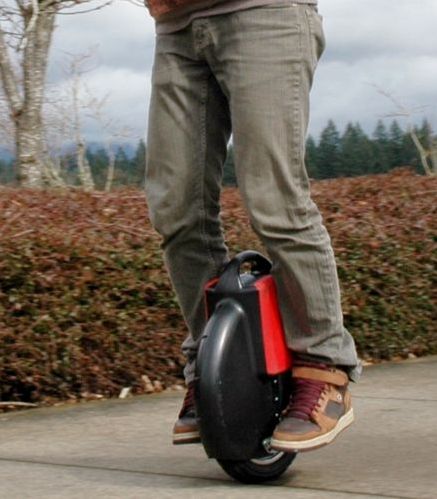 Forward leaning results in steady forward acceleration without jolting, while leaning backward brings the unicycle to a slow, steady stop. A rider controls side-to-side balance and turning with subtle leaning.
The unicycle's 1,000-watt electric motor propels a 160 lb. rider up to two hours at 10 mph with a two-hour charge of its built-in lithium-ion rechargeable battery. Housed within a sturdy ABS case, the motor spins the cycle's single 16″ diameter wheel that extends only 4″ from the case, so pant's legs won't snag.