Custom Hand Sanitizer Monitoring Device
Modding guru Benjamin J. Heckendorn, a.k.a. Ben Heck, help combat the spread of germs in hospital settings by modding a hand sanitizer dispenser into a motion detecting reminder system.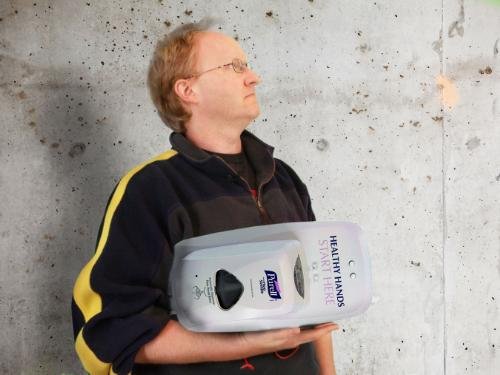 "Automatic hand sanitizer dispensers are great tools, but how do we know if people actually use them?" asked Ben. "This was a question submitted by one of our viewers and it turned into an interesting challenge for the show. I was able to mod an everyday hand sanitizer into an active tool to be used in the arsenal to fight the spread of infection in hospitals."
The idea for the hand sanitizer build came from show fan and physician Arun Mathews, to help prevent hospital-acquired infections. Arun joins Ben to tackle the challenge on the show, building a dispenser featuring enhanced motion sensors, blinking LEDs and an amplifier, which gives hospital staff and patrons an audible reminder to wash their hands. Ben also integrates a parallax propeller development board and SD card to log motion detected data, and a clock to log the time of hand sanitization compliance or non-compliance.
"This episode offers something for everyone, from electronics enthusiasts to germaphobes," said Alisha Mowbray, senior vice president of marketing, element14. "With his notorious DIY gusto, Ben takes his craft one step further, showcasing how modding a useful item can have a lasting impact in real-life scenarios."
Ben rounds out the episode with some finishing touches on his much anticipated pinball machine, including installing the screen and ensuring that all three processors – audio, video, and central processing unit – are hooked up and fully functioning.
Show fans are invited to visit element14 to register for a chance to win one of Ben's recent builds, submit videos of their own builds, or to send Ben a challenge for a future episode.