Nikon COOLPIX P500 12.1 CMOS Digital Camera
Its optical zoom (22.5–810mm) pulls you in from wide panoramas to crisp close ups. Plus, a side zoom control marks the end of shaky zooms—freeing you to capture great action photos with minimal blur. So whether you're shooting a mountain vista or zooming in on a snowboarder, say goodbye to missed shots. This lens catches it all. It even allows for macro shooting as close as 0.4 inches!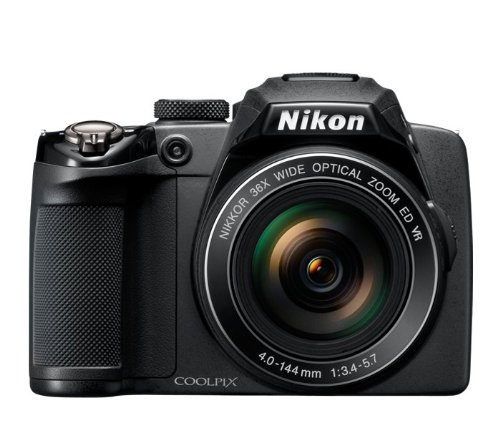 The COOLPIX P500 is ideal for shooting high speed action, so you're sure to capture the fastest skateboarders, skiers and windsurfers. It's armed with ISO speeds up to 3200 and equipped with a five-way Vibration Reduction (VR) Image Stabilization System that reduces the streaky images associated with shaky cameras.
And its Smart Portrait System includes a Blink Warning that warns you when your subject may have blinked. It also includes in-camera Red-Eye technology that automatically fixes red-eye, a Face-Priority feature that can focus up to 12 faces and a Skin Softening feature that smoothes out skin tones at three different levels. This versatile camera even allows for macro shooting as close as 0.4 inches. Plus, it comes with a rechargeable Li-ion battery that lasts for approximately 220 pictures.
Nikon COOLPIX P500 12.1 CMOS Digital Camera with 36x NIKKOR Wide-Angle Optical Zoom Lens and Full HD 1080p Video (Black)