Premium Bluetooth Car Kit FM Transmitter and Hands-Free
This Bluetooth Car Kit with FM transmitter is a product combining Bluetooth, music streaming with hands-free calling. The integrated FM transmitter streams stereo audio through the in-car sound system for music playback and hands-free.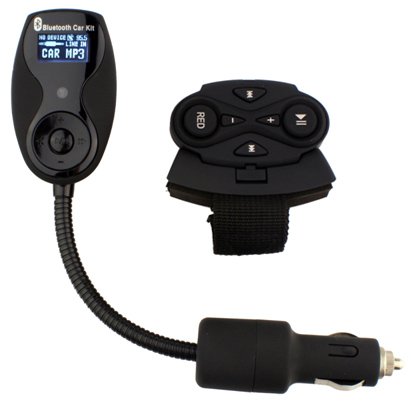 The car kit requires ZERO install and simply connects to your cigarette lighter socket in the vehicle making it easily transportable. The integrated LCD display and high performance microphone enables high quality crystal clear hands-free with the received audio coming through the in car speakers.
Premium Bluetooth Car Kit FM Transmitter and Hands-Free Calling With Steering Wheel Remote Control – Ideal for iPod, iPhone, iPad, Droid, EVO 4G, BlackBerry, Samsung Galaxy, Smart Phones, and other Bluetooth Compatible Devices