Swarovski Valentine's Day
Swarovski cannot miss Valentine's Day. It is a big opportunity for them because girls love Swarovski. No, really. I cannot explain this crazy crystal love but it is true …
So, Swarovski just unveil the new 2011 Valentine's Day collection. It is pretty extensive, so I'll let you know my selection of best Swarovski Valentine's Day
Erika and Elliot Pendant
In line with the colour blocking trend, adorable Erika sparkles in fresh, bright purple.
Her body is embellished in Violet and Light Amethyst crystal Pointiage. Erika's head, arms and legs are moveable.
link Erika Violet Pendant
link Erika Fuchsia Pendant
Loveheart Provence Lavender Small Pendant
Romantic and playful, this stunning pendant sparkles in deliciously fresh Provence Lavender crystal.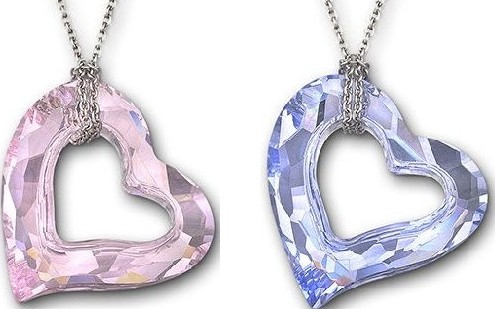 Swarovski bears
This adorable pair of Kris Bears in clear crystal makes a romantic Valentine's gift, a great anniversary present or a playful wedding cake topper.
Kay and Juliette
Beautiful and eye-catching, she represents exquisite craftsmanship and shows exceptional attention to detail. Her petals shine in Platinum White Moonlight crystal.
Swarovski charm
Stylish and feminine, the glamorous Doll Woman sparkles in Amethyst and Fuchsia crystal and translucent pink epoxy.
Swarovski set
An absolute classic! This set includes a gorgeous pendant with two brilliant-cut clear crystals that play with the light in amazing ways.
Swarovski ring
Sparkle in style with two adjustable rings Рone that shines with crystals set in pav̩ and the other that displays a larger chaton in the diamond-like sheen of clear crystal.