The difference between humans and animals begun with develop of tools. As I know the first tools was designed by humans to help prepare food (or better say to hunt the food 🙂 ). Any way first tools were close to grab and prepare the food. In those modern times we have lot of kitchen gadgets. Today we make a selection of the best kitchen gadgets found available for buy on internet. Because the best kitchen gadget for a woman can be the worst for kitchen gadget for a man, we decide to vote for it. So, I grab a list of 20 kitchen gadgets and ask 3 women and 3 men to vote. The final results it below, the TOP 5 best kitchen gadgets from internet. Wait a minute before check those gadgets, and let me explain why 6 gadgets in this TOP 5 are. Easy answer: I like one so much, and I use it frequently in my kitchen so I use my admin force to insert it here (I'm talking about Taylor Digital Scale & Measuring Cup).
So, let begin the top 5 best kitchen gadgets list.
1. AeroPress Coffee Maker
i love to use gadgets for make coffee. The Aerobie AeroPress delivers the smoothest, richest, purest and fastest cup of coffee (under 30 seconds). It costs a bit more than a few double espressos and couple of muffins down your local coffee shop (if you are near of Starbucks can be more cheaper to buy this device).
Using the AeroPress is a simply task: put your coffee in the transparent chamber, pour in hot water, stir for 10 seconds and then depress the plunger. Gentle air pressure forces the mix through a special micro-filter and into the cup below. Good morning darling!
2. Hamilton Beach 6-Quart Programmable Slow Cooker
A pot with LCD? Now that's what I call a kitchen gadget. It has even a another nice feature: a temperature probe. Your husband will be happy: no more over cooked or under cooked beef or poultry as the probe reads the internal temperature as it cooks and magically switches to keep warm once set temperature is reached. Dinner is served!
Link
3. Electric Wine Opener
After a well done dinner, a glass of wine is more than welcome.  You should open a bottle of wine with a gadget with LCD. Electric Wine Opener features a recessed spiral. So it locks on your bottle and the cork is pulled out straight and true every time.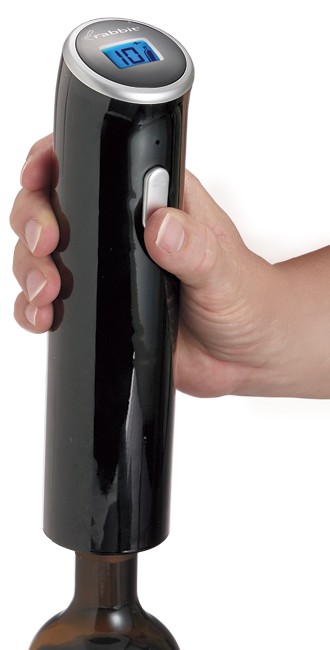 4. Digital Thermometer BBQ Tongs
Barbecue is fun with or without gadgets. But if you can use a grilling gadget, why not? Digital Thermometer BBQ Tongs take the guesswork out of grilling. Just grab the meat that you're cooking, and the digital tongs take its temperature in 5 seconds. The back-lit LCD display offers 7 preset meat types, an audible alarm, and even a led light for grilling in the dark (I don't know why you want to make a barbecue in the dark, but never know it) .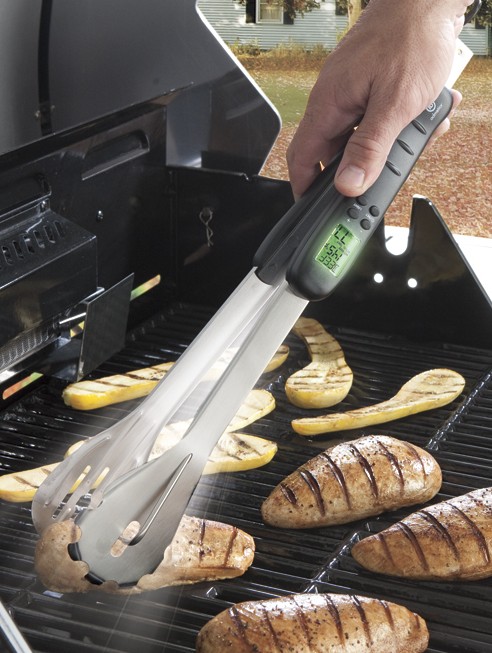 5. Cuisinart SP-2 Stainless-Steel Rechargeable Salt and Pepper Mills
I use salt and pepper at every single meal. Maybe salt is not good for my health but I just love food with a lot of salt. So I can only to wish for a gadget to scatter the salt on my food. Cuisinart SP-2 Stainless-Steel run 15 to 20 minutes of run time between charges and looks like in Science fiction movie. It feature LED lights to illuminate food (maybe a good feature when you do a barbecue in the dark and you don't have a barbecue gadget 🙂 )
Also I like the low-profile power base with red "charge" and green "ready" indicator lights.
Link
My favorite: Taylor Digital Scale & Measuring Cup
Now it is time for my favorite kitchen gadget:  Taylor Digital Scale & Measuring Cup. When I cook (not so frequently)   I take out this gadget and  start to measure weight and volume, convert units and so one. the cooking is more fun with this kitchen gadget. I appreciate to have preprogrammed specification to convert weight to volume for water, milk, oil, sugar and flour.
Link