Wine Vacuum Cork with LCD Display
To use, simply remove the bottom cap, place the handy gadget on top of the neck of an opened bottle, and, while holding the bottle securely with one hand, push firmly down and twist slightly to secure the seal with the other hand. The pump will activate automatically. In the first stage, the automatic vacuum pump evacuates excess air from inside the bottle. In the second stage, its blue LCD display counts down from 60 seconds, then the air pump stops, and the display shows the wine's current temperature in degrees F (can also be switched to degrees C).

Oster FPSTBW8100 Wine Vacuum Cork with LCD Display
Double Flavor Ice Cream Machine
This Double Flavor Ice Cream Maker seamlessly makes two different flavors of ice cream at once! Simply fill the wooden bucket with ice and the two aluminum canisters with ingredients into the center of the bucket it does the rest!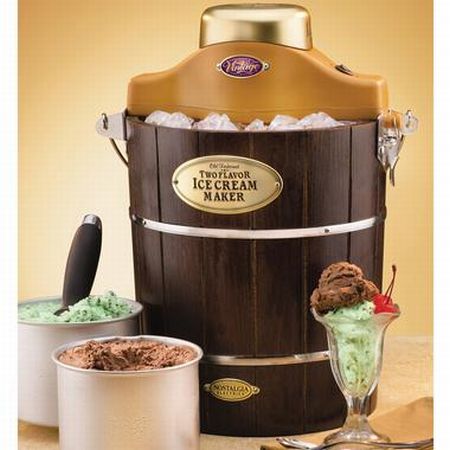 Double Flavor Ice Cream Machine
Induction Cooktop
The drawback is that only works really well with squishy food. What are you going to do for that steak? It needs a good crust that can only come from direct heat. Well, we can take the same principal and apply it to cooking pans. Yes, microwaves excite metal, but trust us when we say that's a bad idea. Just don't do it.
Instead, place your pan on this Induction Cooktop which uses magnetic fields instead of microwaves. Since magnets only react to magnetic materials, such as iron or steel pans, the rapidly flipping field excites the pan into heating up instantly. Consequently, there's no open flame or glowing heating element, making your cooking that much safer.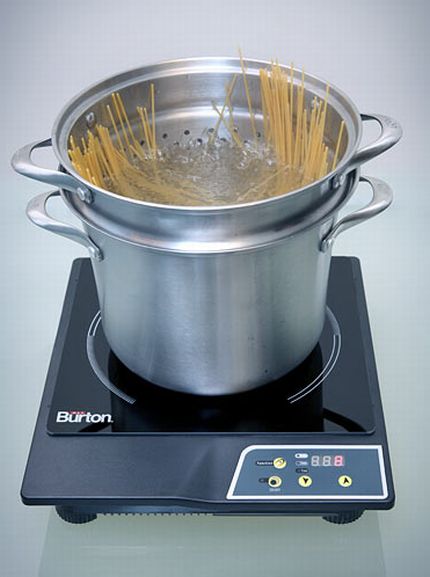 ThinkGeek.com
SodaStream Genesis
The Genesis soda maker carbonates water in a BPA-free, reusable one-liter bottle in less than 30 seconds, without electricity or batteries, and with no clean-up. After loading the carbonator into the soda-maker, fill the bottle with regular tap or filtered water and place it in the soda maker. Just pump the button a few times to add the fizz and in seconds you will have a liter of fresh, tasty soda or sparkling water in a resealable bottle that stores compactly in your fridge.
SodaStream Genesis Bundle Kit – Red
The Tabletop Cotton Candy Maker
This is the tabletop machine that spins ordinary table sugar into cotton candy, providing quick relief for those seeking to satisfy a sweet tooth. The machine is easy and safe enough for even children to operate–simply add sugar to the heating chamber and in just minutes it produces wisps of feathery confection that you can collect on a chopstick or straw.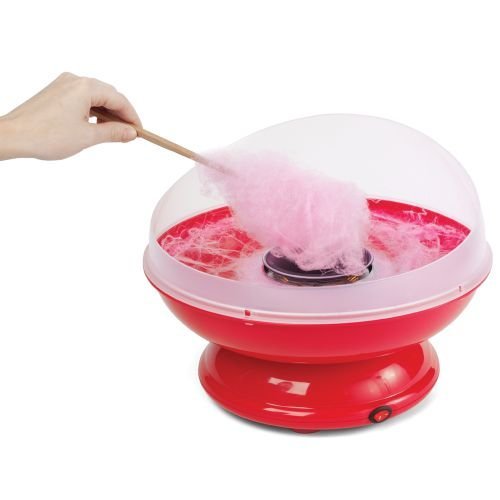 The Tabletop Cotton Candy Maker.
Aroma Cool-Touch 10-Cup Stainless-Steel Rice Cooker and Food Steamer
The unit accommodates up to 10 cups of dry rice for a 20-cup cooked capacity, plus it can be used to steam meat, seafood, and vegetables separately or while simultaneously cooking rice. It also works great on cold winter nights for cooking up a batch of chili, beef stew, or chicken-noodle soup. To use, simply measure in the ingredients, set the lid in place, and lower the lever to the "on" position. At the end of the cooking cycle, the appliance automatically switches over to keep-warm mode, which maintains an ideal serving temperature without over-cooking. Other highlights include handy indicator lights, a condensation collector, a removable steam vent, a carrying handle, and a nonstick removable inner pot for quick cleanup.
Aroma ARC-900SB Cool-Touch 10-Cup Stainless-Steel Rice Cooker and Food Steamer
Margaritaville DM3000 Tahiti Frozen Concoction Maker
The Tahiti features three separate blending jars and six automated drink settings, pre-programmed to shave ice and blend the perfect Margaritas, Daiquiris, Coladas, Mudslides, Mojitos and Smoothies. The Tahiti"s rotating ice chute will entertain your guests and become the hot topic of conversation long after the party ends. And, the Tahiti is incredibly easy to use. Simply fill the top reservoir with ice, pour your favorite ingredients into the blending jars and, with the touch of a button, the automatic Shave-N-Blend controls create up to 72 ounces of pitcher-perfect frozen drink deliciousness in one easy step. The shaved ice is the key to restaurant-quality drink consistency – no more ice chunks or watered down drinks. The Tahiti manual controls also allow you to thicken or thin your drink to your personal preference with the "shave only" and "blend only" settings at each blending station.