New Space Flight Quest at Boda Borg in Sweden Shocks Guests
People who know Boda Borg know that their special kind of entertainment called Questing is unbelievably fun. It has been that way for more than 13 years in Sweden with Boda Borg. The Quests, which many say are like real people actually being inside a computer game, have had a basic look and feel up until now.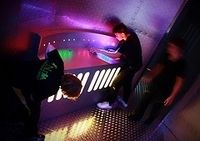 Not any more. The Oxelosund Boda Borg location is focused on making new Quests feel as real as possible when guests enter and try to survive them. The new Space Flight Quest certainly achieves that objective and sets a new standard for what guests at Boda Borg locations as they begin to expand internationally.

"One step inside Space Flight and you feel like you have left Earth" says Stefan Kemi, owner of Boda Borg Oxelosund with his wife Yvonne. "Guests today want real and exciting experiences, not passive experiences. So our new strategy is to build all our new Quests with more real and familiar looks and features." Space flight includes special sounds and lights and a mysterious path to follow just like going through a space ship in the movies. It is so popular that 4 times the expected number of guests have tried it.
Peder Grahn of Nykoping, who recently took his family to Boda Borg Oxelosund, said "I have been to 3 different Boda Borg locations in Sweden. Space Flight is by far the best Quest I have ever seen and done. My children also just love it. Even after they got their prize they wanted to do it again and again. Me too!" David Spigner, Head of Boda Borg Corporation in Southern California adds, "We felt people would really love the new look and feel strategy of our incredibly unique gaming concept. Space Flight confirms this."