Antec USB-Powered Notebook Cooler
Overheating laptops are a bigger problem than most people realize, as heat reduces system stability and harms the lifespan of your electronics. One solution to this problem can be Antec Notebook Cooler.
Increasing the cooling your laptop gets can help it last longer, and may reduce or even eliminate system crashes.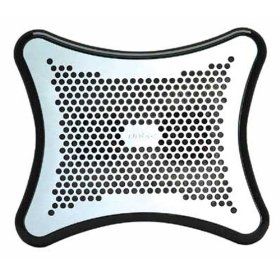 * Protect your valuable investment and reduce heat-related instability
* USB-powered cooler with pass-through connector included
* Draw power from any USB port without losing use of the USB port
* Low power consumption
* No batteries or power adapter needed
* 2 Double ball-bearing fans for reliability
* Quieter than a whisper, only 25.9 dB(A)
* AQ3 Antec Quality three-year warranty
Link