7G Professional Gaming Keyboard: 18-karat gold-plated mechanical switches
SteelSeries 7G, designed with 18-karat gold-plated mechanical switches, sets new industry standards for advanced key combinations and Actions-Per-Minute (APM). This translates into quicker reaction times and stronger results.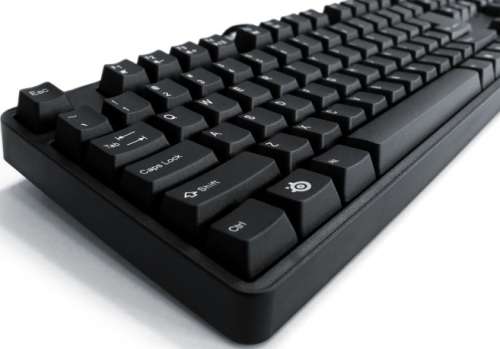 The SteelSeries 7G keyboard sets a new industry standard for gaming keyboards by allowing users to perform at new levels with advanced key combinations. Utilizing a powerful PS/2 buffer-system created specifically for gaming, the SteelSeries 7G keyboard eliminates "anti-ghosting" by supporting as many simultaneous key press commands as there are keys on the keyboard. What this does, for example, is allow users in a first person shooter game to walk, crouch, aim, fire and check the scoreboard simultaneously. Traditional keyboards do not allow this much functionality all at once.
The keyboard was built specifically to offer gaming-grade response times as well as an unmatched durability with a switch lifetime of 50 million operations, which is 10 or more times the lifespan of a typical "membrane" keyboard which has a maximum of 1-5 million total keystrokes in a lifetime.
The SteelSeries 7G keyboard is equipped with audio ports for headphone-out and microphone-in and includes a two port USB hub. With both PS/2 and USB connectors, the keyboard features the compact SteelSeries Media Controls, an essential gaming element that allows the user quick access to volume, muting and other audio controls.
The mechanical tactile system is ergonomically designed to ensure ease-of-use, and the no-click switches and iron-infused plastic make the SteelSeries 7G keyboard both comfortable and durable for professional or competitive gamers.