Kitchen HDTV Digital Cookbook Photo Frame
Pandigital is today debuting a first-of-its kind product that combines an HDTV, digital cookbook and digital photo frame for one of the most-used areas of the home – the kitchen.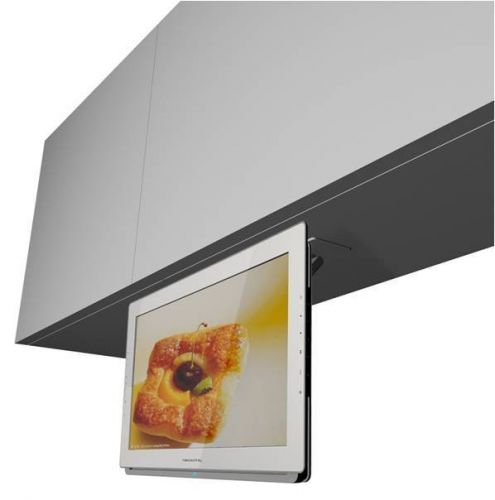 The Pandigital Kitchen HDTV/Digital Cookbook/Digital Photo Frame combines several functions into one sleek, well-designed LCD that delivers tremendous space savings. This new product can be enjoyed in the following ways:
HDTV: This High Definition TV (1280×720 HD-ready resolution). It supports ATSC/NTSC, composite, S-Video, YPbPr and HDMI.
Digital Cookbook: Stained, tattered cookbooks are a thing of the past. Pre-loaded recipes are included to make this Pandigital Digital Cookbook ready to use. Plus, additional recipes can be copied onto the frame's internal memory.
Digital Photo Frame. Copy them onto the digital photo frame's memory via the memory card reader or by a connection to Google's Picasa photo sharing website.
The Pandigital Kitchen HDTV/Digital Cookbook/Digital Photo Frame will be available beginning in June at a manufacturer's suggested retail price of $399.99.
The Pandigital Kitchen HDTV/Digital Cookbook/Digital Photo Frame features the following:
A mess-proof design that is sealed with glass, so it is protected from water, oil, flour and other common ingredients, as well as from spills and splatters. The sleek design is also easy to clean.
It comes with a countertop stand and an under-cabinet mount, and is also wall-mountable, so customers can position it where they'll need it most.
Interchangeable faceplates in brushed stainless, black and white let customers match their kitchen's décor.
Convenient access to all of the functions with the easy-to-use touch-control interface or the remote control, which conveniently tucks away behind the frame for safe storage.
512MB of internal memory stores up to 3,200 pages of recipes or digital photos.
Calendar and clock functions keep customers informed and allow photos, video and music to be programmed for play at specific dates and times.
The alarm function can be set to remind customers of noteworthy dates and times, including when it's time for a favorite cooking show.
The integrated 6-in-1 media reader that supports SD, XD, Memory Stick, Memory Stick Pro/Memory Stick Duo, Compact Flash and MultiMediaCard.
Programmable on and off times ensure the frame is ready to be enjoyed.
Support for a wide array of image, video and audio formats including JPEG, Motion JPEG, MPEG 1, MPEG 4 and AVI.