Wireless Laser Desktop 7000 designed for VISTA
Microsoft Wireless Laser Desktop 7000 (estimated retail price of $129.95) is designed to complement the Windows Vista operating system with its striking design. The new desktop set includes an ultrathin Comfort Curve keyboard and rechargeable mouse, delivering ultimate performance and comfort. The keyboard features a Windows Aero-inspired translucent design, floating Hot Keys and instant access to Windows Flip 3D.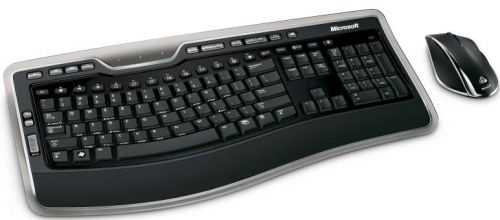 The Wireless Laser Desktop 7000 keyboard features Microsoft's best-selling Comfort Curve design, which encourages a more natural position with a slight 6-degree curve. The included Wireless Laser Mouse 7000 is a stylish, rechargeable mouse that perfectly complements the sleek keyboard. The horizontal charging station provides a sturdy base, and the battery status indicator lets users know when it is time to charge. By choosing a rechargeable mouse, users can reduce their battery consumption by up to 80 percent over three years of use.
The Wireless Laser Desktop 7000 will be available in April 2008 but you can pre-order now
.