Imation SSD PRO 7000 & SSD MOBI 3000
SSD is a data storage technology utilizing solid state memory. Without motors or moving parts, SSDs are faster, more robust and more reliable than traditional hard disk drives (HDDs), and also provide greatly improved durability and shock resistance, while reducing overall heat and noise generation. Unfortunately the storage capacity is lower than a normal HDD, and the price/GB is still high.
Imation today announced the availability of its Solid State Drive (SSD) solutions: SSD MOBI 3000 (3.5″ and 2.5″) and SSD PRO 7000 (3.5″ and 2.5″). The 3.5″ versions features 64BG capacity and 2.5″ versions features 32GB capacity.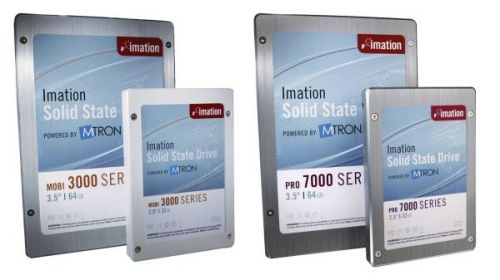 The Imation MOBI 3000 Series and PRO 7000 Series are now available in North America and Europe for a manufacturer suggested retail price of $699.99 U.S. and $1,159.99 U.S. respectively.