Surgical sponges counts by computer
Back in December 2007, a jury awarded a plaintiff $10 million as a result of a doctor accidentally leaving a surgical sponge inside the plaintiff after his procedure. Currently, hospitals attempt to prevent retained sponges by requiring nurses to individually hand count all the sponges that will be used in a procedure – tracking the sponge counts on a white board. At the end of the procedure, all sponges – both dirty and clean – are counted again by hand and reconciled with the original count.
The Safety-Sponge System prevents false correct counts by computerizing all sponge counts in an OR. As each individual sponge has a unique two-dimensional bar code, no one sponge can be counted twice and inadvertently create a false correct count. This essentially eliminates the root cause of retained sponges.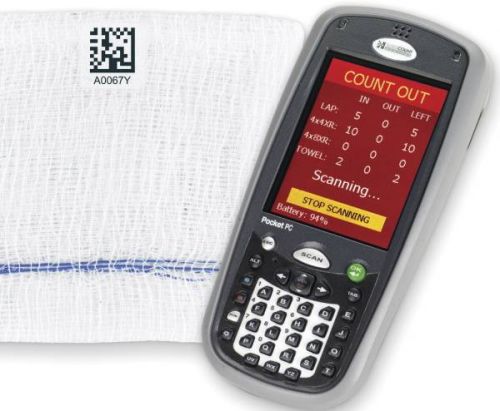 It's estimated that there are 3,000 to 5,000 cases of retained sponges annually.
Sponges left behind can cause deadly infections (with patients and doctors unaware that the infections are RFO-related) and can lead to mortality.
Several states have initiated mandatory reporting policies calling for hospitals to annually disclose preventable medical errors (often called "never events," as in "never-should-happen").
Medicare, Blue Cross and Blue Shield all announced plans last year to stop paying hospitals for the treatment of conditions which fall into the "never events" category (such as re-doing a surgery for $50,000 after a sponge has accidentally been left inside a patient).
Since the introduction of codified AORN (Association of Perioperative Registered Nurses) sponge-counting recommendations in 1976, little has been introduced by way of adjunct technology to assist nursing staffs in performing their manual counting procedures and in reducing instances of lost or retained sponges.
The Joint Commission, which accredits hospitals, is strongly suggesting that healthcare facilities implement systems to prevent RFO-based errors.
The average cost to hospitals per retained incident is $250,000.